For Women's History Month and International Women's Day, Apple is further amplifying female voices that drive culture and change by bringing to the forefront untold stories, exclusive content, and curated collections across all of its services. These offerings that celebrate the social, economic, cultural, and political achievements of all women are already available.
So, let's have a look at all of the experiences customers can enjoy in March and beyond.
App Store
On the App Store, customers can now read about female developers in exclusive interviews, or browse the curated Apps Made by Women Collection. What is more, the App Store will feature an App of the Day and Game of the Day from a woman developer during March. The Apple Arcade will showcase a collection of games with powerful female characters.
Apple Music
Here Apple will highlight women who are leaders in their field, breaking records, toppling charts, and inspiring others through their work, advocacy, and influence within pop culture and beyond. Listeners will be able to enjoy a diverse range of "Visionary Women" playlists from artists and influencers. Apple Music will also showcase four original content short films. Apple Music radio and Apple Music TV will feature incredible female voices, stories, and musicianship for a full 24 hours on March 8.
Apple Books
Apple Books will feature country-specific collections starring women's voices and elevate their contributions to every field. Customers can find a selection of biographies and memoirs along with collections that spotlight literary icons and exciting newcomers in fiction. Customers can also explore recommended great books and audiobooks that unearth stories of remarkable women during extraordinary times.
Apple Maps
Curated Guides will be available on Apple Maps. In collaboration with Atlas Obscura, Complex, Michelin Guide, HER, and Street Art Cities users will be able to discover stunning female statues, restaurants from female chefs and rising stars from around the globe, must-visit businesses in Los Angeles, and street art by women artists in New York.
Apple Podcasts
Listeners can enjoy an expansive set of shows featuring powerful female voices. There will be a collection of shows from women-founded podcast studios, in addition to a special edition titled "The Power of Sisterhood," which features shows that celebrate the roles women play in society, culture, and family, and the many ways women work together to achieve positive change.
Apple News
Curated topic groups will be available on Apple News that highlight diverse, inspiring figures from the past and present, lesser-known stories about women's history, and the best journalism around key women's issues. On International Women's Day, readers can dive even deeper with a Spotlight collection of articles that celebrate contemporary leaders around the globe.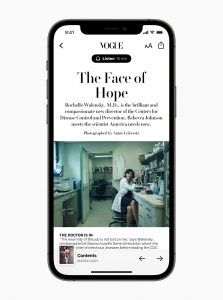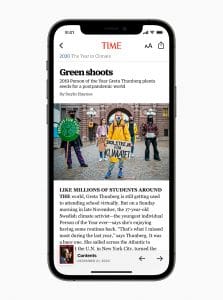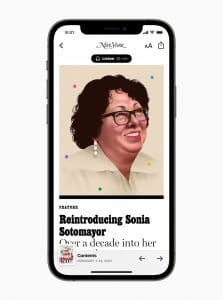 Apple TV App
The TV app is highlighting showrunners, directors, stars, and crew members who are working toward progress in relation to equal rights. Customers can enjoy curated collections that celebrate iconic and emerging voices who bring women's experiences to the forefront of their storytelling and elevate remarkable shows, movies, and documentaries from international creators.
Apple Fitness+
Apple Fitness+ subscribers can enjoy a collection of 24 diverse workouts featuring full playlists made up entirely of women, starting on March 8th. These workouts will celebrate women with either a full theme, such as equal opportunity, and breaking through barriers, or by including inspiring and motivating songs from great women artists.
Apple Watch
On March 8, Apple Watch users can participate in the International Women's Day Activity Challenge and earn a limited-edition award by recording any workout of 20 minutes or more.
Research App
The Apple Women's Health Study is a first-of-its-kind research study that aims to advance the understanding of menstrual cycles and how they relate to various health conditions. The multiyear study is conducted in partnership with researchers at the Harvard School of Public Health and the National Institute of Environmental Health Sciences.
Who knows how many could've been the first if they'd had the chance to try. By remembering these important female figures and their contributions to today's society we want to show girls that anything is possible no matter what they look like, or where they come from. They can change the world.
Here is to all the firsts that make way for the many others. Keep on shining.