Yana Papardova, the HR manager of Schwarz IT, is a colourful, positive and ambitious person who is also a big fan of the Japanese language and some of their favourite creations – anime and manga. Getting and giving positive feedback and seeing how successful projects come to life is all Yana needs.
Yana Papardova is the HR manager of Schwarz IT Bulgaria. From first sight, you can tell she is a positive, ambitious, and colourful personality. As a great fan of the Japanese language and some of their most beloved creations – anime and manga, Yana often gets inspiration from K-pop videos, which often shows in the small details of her style. She firmly believes that one of the key attributes of the 'HR people' is the right combination of mindfulness, empathy, sensitivity, and the ability to look beyond the surface. Yana is very conscious about all issues that arise from gender inequality, and despite the fact that this topic is widely discussed and tackled in business, there is still way to go in order to reach the right balance. Yet, she has her two cents at Schwarz IT Bulgaria, as one of the company's main missions, is to bring more women to the IT Realm. Otherwise, Yana loves giving (and getting) positive feedback, and seeing how successful projects come to life is all she needs. She takes her chance to step into the realm of Human resources a bit like a stroke of luck' – but her successful track so far proves that this was not only pure luck, but a combination of hard work, creativity, passion, and lots of sleepless nights.
"Getting positive feedback and seeing successful projects come to life is all I need."

Can you share something specific about you that we can't find on LinkedIn?
I am a big fan of Japan and some of their most beloved creations – anime and manga. This interest refers to my general interest in the Asian action/ fantasy genre. I've been obsessed with it for the last 15 years and now it feels just as much a part of me as anything else. You can easily spot my footprint around our offices. I have printed a huge wallpaper from The Shire in our green room. There are big stickers around the office with Son Goku, Monkey D. Luffy and Spirited Away. I had a lightsaber next to my desk. It did wonders when I had to persuade people to agree to what I was proposing (laughter).
Have you encountered any challenges in your career in connection to being a woman?
Almost every woman has. However, I feel like I've been more blessed than others. The biggest challenges I've faced were usually connected with trying to keep the right tone. There are certain expectations – a woman can't be too assertive or aggressive in her opinions. She might be labelled as hysterical or unstable. But if you are trying to prove your point you can't afford to be too timid. I have had cases in the past when I hadn't been able to balance it out, and this was seen as unprofessional. "You are too emotional", someone would tell me. "Are you stressed?" Or, my favourite, "She must be on her period". All of these comments have taught me that being too expressive is not a good wager for a woman. A sure weapon remains in polite and cool indifference. Though that might label you as frigid but it will give you results.
Do you know how many women work in your position?
Quite a lot. My profession falls under one of the social mindsets. A teacher, a nurse, a hygienist, a shop assistant, someone from Human resources – when you think of the role you imagine a woman. It's one of the few places where you can see the gender prevails but if you look at the social status of the listed positions it's not exactly something to be envious about.
Favourite clothes?
Watch a K-Pop video if you haven't. That's how you'll get a pretty good idea of my wardrobe. I love it when people have character and are bold enough to show it. I express mine through my style, which is usually full of colours and accessories.
High heels or flat shoes?
If the occasion calls for it, I would even wear cowboy boots! I am now dying for an occasion to wear a new flower earpiece I got. It's huge, shiny and looks like it came straight out of a Chinese royal wedding and I love it.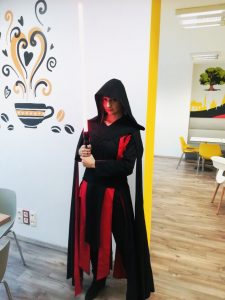 Which typical female quality does not apply to you?
I think there is any specific 'work' or 'quality' that pre-defines genders. I am what I am, with all my flaws and good qualities – an independent and strong personality with a vulnerable heart that often melts when good things happen.
What is THE thing that you must have in your bag when going out?
Another bag. A bigger one!
Favourite lipstick colour?
To be honest I accessorise so much that it's best not to go overboard with the lipstick as well.
Do you think that the problem of gender inequality is still relevant in Bulgaria and globally?
It's just as relevant now as it has always been all over the world. A dent has barely been made in the evening on the scales and it is in no way equal for every place in the world. It starts with uneven access to education. Around the world, women still have less access to education than men. When girls are not educated at the same level as boys, it has a huge effect on their future and the kinds of opportunities they'll get. Then there is job segregation. In most societies, there's an inherent belief that men are simply better equipped to handle certain jobs. Most of the time, those are the jobs that pay the best. There is also a huge lack of legal protection in many countries against domestic sexual violence or domestic economic violence. These places become unsafe and without protection, women frequently have to make decisions that compromise and limit their goals. Thankfully this is not the case in Bulgaria but there are societies where women still do not have the right to choose – no matter if it concerns their education or personal life, including when to become a parent. There are so many problems in the world, some of them more pressing than others. But we shouldn't let ourselves forget that we still have many issues to tackle, deep issues, rooted in the cultures, which are going to require time and systematic efforts to deal with.
What policy does your company follow in terms of promoting diversity?
It is one of our missions to do our best in providing more and more women the opportunity to develop in the area of information technology. It all starts at school, so we are trying to promote it as a career path as early as possible. We have a target of having 50 – 50 in percentage when it comes to both genders. We are steadily climbing our ladder and we are now over 30%.  Women at Schwarz IT also take managerial and leadership roles. Of course, the ladies need to feel comfortable that they can also be dedicated parents and not miss out on their career development. This comes with flexibility and promoting work-life balance at Schwarz IT Bulgaria. It also comes with a bonus for having a baby.
Read More Inspiring Stories for Women in Tech in WRTech here.
Do your male colleagues treat you differently?
I did mention I have a sword by the desk, so you can imagine everyone treats me with respect – male or female. Joke aside, Schwarz IT Bulgaria is a great place to work if you want to feel valued for your professional qualities, if you want your achievements to be recognized, or be given equal opportunities.
Do you think that a woman's appearance and charm affect her professional success? (example: does it make communication easier?)
It certainly does – especially in the beginning when appearance is the first thing we notice. People are very visual creatures and we are prone to open up more easily to the people we find attractive. That can be dangerous at times though – you don't want to only be successful because of just your looks and charms. You want everything you have to offer to your profession and organization to be recognized – your efforts, your ideas, your code, your coaching methods, your personal touch. Right?
How do you combine personal and professional life? Do you have any rules that you follow?
In this pandemic year finding the balance for many has proven to be quite a challenge. I don't think many of us had realized how reliant we were on changing location and the scenery in order to switch off or to distract ourselves. I am one of the few people you will meet, who tell you that they hate travelling. And yet, a few months in the first lockdown, I found myself desperate and ecstatic to find myself as far as a new neighbourhood. I've always had one refuge and that's reading. The moment I get my hands on a good fanfiction from a favourite book or movie I "disappear" from the world. During the pandemic, it feels like I've done that a lot and I know that no matter the time a good book will always make me forget about everything else. My current obsession is a Chinese production, called "The Untamed". Do check it out.
Which sources do you follow and can you recommend some of them to our audience? (example: podcasts, pages, influencers, vloggers, etc.).
I am completely in love with the podcast Star Talk, led by Neil deGrasse Tyson. As an astrophysicist, he has a certain knack for talking about the known universe in a very accessible way. And you don't just learn about stars. You learn how deep the deep actually is, what is real back, what is really nothing and how far can you actually go with large numbers. Next, you might hear about aliens, dark matter or why the sky is blue. If you don't remember a few physics classes from high school, you are in for a ride.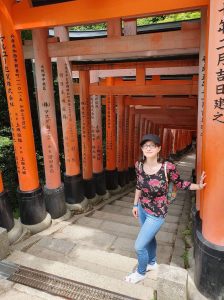 What is your personal philosophy as a successful HR professional?
Always go the extra mile and never assume things about people. This might sound like a cliché – yet, we still do it on a daily basis. Because, let's face it – quite often, 'HR people' need to overcome some sort of drama – be it personal, professional, or both. People come with their own issues, emotional baggage, mood swings, burdens. We, as HRs, need to be mindful and go beyond the specific issue. We have to learn to read between the lines, to listen, be flexible, and develop an ability to empathize. When I say "going the extra mile", I mean mostly the 'small details'. Greet the people around you, give a compliment, do your research, be prepared for a meeting, check your facts, ask for feedback before making a decision. It's all those little things that can be very easy to overlook while we are swarmed with a pile of tasks for the day. It's easy to say "I'll just wing it on the fly" or "I probably already know everything about this case". It's the perseverance in being thorough that gives the best results.
In your experience, which benefits/ perks drive the highest employee satisfaction and engagement?
There are so many new studies coming out, tracking the change of life we have had over the last year. In brief, the skills needed in many roles have an increasingly short shelf life, owing in part to more frequent and disruptive technological breakthroughs. Positions filled today will require up to 10 new skills within 18 months. So, a company looking towards the future needs to hire for potential, not so much as for experience. Second, we need to move beyond the ping-pong table and the free drinks as the usual incentives. It's critical that companies understand how candidates view them, the researchers say, and if necessary, find ways to boost those perceptions. So here at Schwarz IT Bulgaria, we are trying to do exactly that. We are taking a lesson from our retail business which is exceptional at figuring out the consumer's expectations and we craft positions accordingly. We are working towards expanding our academies in more and more technologies. Opening up amazing opportunities for good professionals to return back home to Bulgaria. Tipping the scales towards gender equality and more women getting interested in IT. Our company tries to understand and refer to things that matter most to people – and combine them with strategic foresight and teamwork – locally and globally.
What motivates and inspires you the most in your professional life?
Getting and giving positive feedback, and seeing successful projects come to life are all the motivation I need. When people leave with a smile and are light-hearted after our meeting – this makes me just as happy and engaged. Deep down in my core, I am a genuine people pleaser and that can be a good thing to have in my profession. It makes my work easy and satisfying. I was a regular student, just like many others, when I was choosing a profession. It was some kind of stroke of luck that I got the chance to step into the field of Human resources. Now I can't imagine doing anything else.
If You Want to Read More Inspiring Stories for Success and Professional Growth Join the DevStyleR #Tech Influencers Community and Get Access to our Special Editions here.