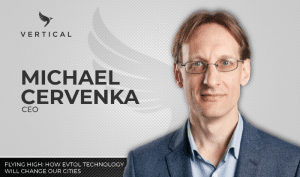 The global aerospace and technology company Vertical Aerospace ("Vertical") announced today  the appointment of two Independent Non-Executive Directors.
The new Board members are Kathy Cassidy – Independent Board Director for Goldman Sachs Mutual Funds and Gur Kimchi –  veteran aviation and technology executive, co-founded of Amazon Prime Air, Amazon's drone delivery service.
Dómhnal Slattery became an advisor to Stephen Fitzpatrick, CEO and Chairman of Vertical.
These appointments will be effective upon completion of Vertical's business combination with Broadstone Acquisition Corp.
Stephen Fitzpatrick, Chairman and CEO; Vinny Casey, Chief Financial Officer and Michael Cervenka, President are composed as Vertical's executive team.