Gloria Stoilova – a certified Agile Coach, Delivery Manager, helicopter pilot, military paramedic, who is also awarded as "professional confectioner and baker". A curious fact about her is that she also has her own rosary with designer roses in her garden.
Gloria Stoilova is a certified Agile Coach, Delivery Manager from the Zephr's team at Questers, helicopter pilot, military paramedic, who has been awarded the title of "professional confectioner and baker" and has her own rosary with designer roses in her garden. Gloria has two Jack Russell dogs and is a mountain medicine volunteer at the Mountain Rescue Service. According to her, a good "Delivery Manager" should not only possess theoretical knowledge of different approaches in project management but also a fairly rich set of skills for working with people, managing people and creating well-functioning teams. Gloria shares that once she didn't get a job because of her gender. Nevertheless, she adds that she is happy to notice that in the last few years an increasing number of women take positions similar to hers and do well, relying on good and innovative practices. Gloria believes Bulgaria is a pioneer in granting equal rights to women. She says that in recent years, people talk more about gender equality, but there are still countries where very little is done at a state or community level. Gloria believes that such policies are needed to achieve the desired gender balance.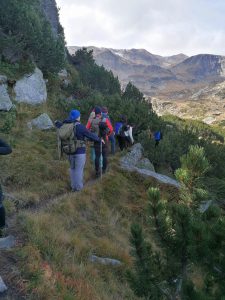 Favourite clothes?
A dress.
High heels or flat shoes?
Flat.
Which is THE thing you never go out without? 
Something sweet.
Favourite lipstick colour? 
Givenchy's "Ashes of Roses".
Which feminine activity seems foreign to you? 
Gossiping and cleaning windows.
Which cause are you currently supporting? 
I support all kinds of causes related to helping children – in a physical, psychological, emotional, educational, and any other way.
Can you share something about yourself that we can't find on LinkedIn?
I'm certified as a "professional confectioner and baker" and I have a rosary (collection) with designer (hybrid) roses in my garden. I also have two wonderful Jack Russell dogs, and I am a volunteer and trainer in "mountain medicine" at the Mountain Rescue Service.
Have you ever faced challenges in your career because of being a woman?
Yes, a few years ago I didn't get a role because of my gender. Although the company shared that I am the best candidate in terms of experience and personal qualities, I did not get the job. Out of several thousand candidates, there were only 3 of us at the final stage and I was the only lady. At the last interview I performed very well, but the interviewer said that they've imagined a man in this position and although I was the best candidate, they will not hire me. I was very upset because it didn't feel right. The idea that this position was more suitable for a man seemed quite subjective. In terms of experience, education, desire to get the job and a personal approach, I felt I was suitable for the role. I wasn't offended, but I realised how difficult it is to be a woman in a male-dominated business world and how many other great things have happened to me despite the fact that I'm a woman.
Do you know how many women work in your position? 
No, neither as a number, nor a percentage. Apparently, most of the Delivery Managers in tech are men, because in most cases they are people who have progressed over time from another role in their teams. But I am happy to notice that in the last 3-4 years an increasing number of women have taken this position, and not only do well but also rely on good practices and give a modern and diverse outlook to the role.
Do you think that the problem with gender inequality still exists in Bulgaria and globally? 
In Bulgaria – not really. In my opinion, Bulgaria is a pioneer in granting equal rights to women. The country has been enabling women to work, make a living and build a career for years, even during its socialist past. Working women have always been a part of our society. Perhaps years ago, there was some gender inequality in pay, but this has become less common recently and, to my delight, there are more and more women who hold higher positions with more responsibilities and receive higher payment. It seems to me that with quite a delay, the world began to realize and accept the fact that women are equal to men, that they can do men-dominated work and can even be more resilient. In recent years, the awareness of gender equality has been increasing globally. Тhere are still places where little is being done in this direction by the state or on a community level. Policies are needed to achieve this desired balance, and fortunately, an increasing number of companies are starting to think in this direction, which is a great start.
"Business and dynamics in software development are very demanding and in constant development of processes, which is a completely organic development of the role."
Do women's appearance and charm help you be successful in a professional way? 
It depends on the situation and the people. The female appearance helps to the extent that others feel flattered by the presence of a woman and do not see a direct threat. The charm is useful when opening a conversation. When a woman has charisma, she is well respected by others, but if she has no other qualities and skills, this magnetism stays at the entrance. The truth is that in recent years a growing number of people are working on developing their soft skills, emotional intelligence, communication skills and charisma. Charm is no longer a big factor for good communication. It helps in the beginning, but then other qualities are expected. You cannot succeed in the long run only with magnetism and a good look.
Which policies does your company encourage regarding gender diversity? 
At the moment, I notice that most colleagues are hired because of their qualities, not because of their gender. This makes me very happy. And it makes me feel in the right place. I see that when there are vacancies at the company, referrals of suitable candidates in terms of professional skills, experience, soft skills, cultural fit are encouraged, and there is never any hint of gender expectations for the role. This makes me feel comfortable in the company because it values people and gender does not matter when looking for the right talent.
Read More Inspiring Stories for Women in Tech in WRTech here.
How do you get along with men in your company? Do they treat you differently? 
I would say that they accept me quite well. So far, I have not noticed a different attitude towards me because I am a woman. Sometimes they are surprised by my age, my experience, my knowledge or my previous achievements, but always in the context of what I do and how I apply this experience to the benefit of the team. The discrepancy between their expectations for my role and work in the context of the team and the real situations does not provoke a different attitude, but rather a more open approach in communication between us in a calm manner and active dialogue with each other. Honestly, so far I have not worked with people who perceived me more as a woman than as a professional and part of the team.
How do you balance your work with your personal life? Are there any rules that you follow? 
It is said that in order to develop a career, a woman must make compromises with her personal life. In my opinion, this stigma is long gone. Fortunately, I manage to combine my personal and professional life and find a balance between them. I can't call it a rule, but rather an approach that worked for me. I try to indirectly acquaint my family with the work I do, with the role I have in the team, with the dynamics of the team and the people in it. This makes them feel not only like bystanders of my professional life but also as a part of my team and my work. They approach it with understanding when they see that in my head I am still at work with my colleagues. I consider myself a happy person because I have managed to build a good career without harming my family.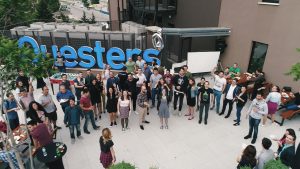 Tell us a little more about your work as a Delivery Manager. How is this role related to the IT industry? 
In general, the role of a "Delivery Manager" is not a role created by the software business, but it has successfully entered the IT industry and evolved over the years, acquiring the complexity that it has now. The business and software development dynamics are very demanding and there is a constant evolvement of processes. This is a completely organic development of the role. The Delivery Manager role is quite complex and includes a lot of responsibilities – from the project and team management, through budget and timeline management, process management and product roadmaps, to the management of the integration, implementation, deployment and subsequent maintenance of a software product. My main responsibilities as a "Delivery Manager" are to help the team move in the planned direction, to have a clear vision and understanding of what is expected from them as a final result and within what time frame. I ensure they are able to focus on the work and maintain the speed of the work process that is in line with the dynamics of the team and the expectations of the product organization. Another very important part of my role is to observe the evolution of the people in our teams, so I can provide them with the right training for their personal development (competencies and skills that would help them become better at what they do). As I said, the role is quite complex, but it is based on the principles of project management and "lean-agile" methodologies for process management. A popular understanding is that the "Delivery Manager" is the person who manages the whole process from the idea, through development to commissioning.
You are one of the few certified Agile Coaches / Trainers in Bulgaria. Can you tell us a little more about this title and how you integrate it into your current position? 
I enrolled in an "agile" course led by one of the founders of the "Agile Manifesto" and throughout this course, he shared that he noticed I had a lot of knowledge and quite diverse experience in working with people and teams in different processes environments. He encourages me to become an "agile coach" so that I can share my knowledge with others. I underwent specific training, which was quite intensive and encompassed a large amount of information. Subsequently, under his supervision, I had to conduct several training sessions in different companies with diverse teams, and only after gaining enough experience as a coach and facilitator, I passed the certification. I believe that my experience as a mentor of other teams and in different types and sizes of companies is the thing that helps me the most in my work. A good "Delivery Manager" must not only have theoretical knowledge of different process approaches in project management, but also a fairly rich set of skills for working with people, managing people and creating well-functioning teams. The role of the Delivery Manager is not to manage people or teams, however, it requires such skills and the ability to apply them without imposing managerial rights on the team. This is the main part of its role – to manage processes together with the teams in the name of the product delivery on time and within budget.
"Perhaps years ago there was inequality in women' salaries holding the same positions as men but this has become less common recently. To my delight, there are more and more women who hold higher positions with more responsibilities and receive higher payment."
You have been in the army for 12 years, a helicopter pilot, a military paramedic, participated in many projects, seminars and climbed Mount Kilimanjaro twice. How does the current pandemic situation affect such an active person like you? Are there any specific difficulties you face and how do you deal with them? 
I would not say that I have difficulties slowing down, on the contrary, I accept this period as a kind of emotional and physical rest. I have time to make new plans and to deal with old ones I never found the time for. I am trying to obtain new skills in preparation for the challenges ahead and the new normal that this pandemic will bring us. I learned to value my own and other people's time. I have become an even more organised person and I no longer have to explain to other people why it is important to be organised and have plans – the pandemic has absolutely proven this need so that we can move forward and develop as a society. This situation actually allowed me to explore new hobbies – I started taking drawing and calligraphy lessons, I started tai chi lessons – things I never had enough time for before and I didn't want to push into my schedule, just because they are in my "bucket" list, but to enjoy them as an emotion, a feeling, a process and a time for myself.
How would you describe yourself in one sentence? 
A woman who enjoys life faces challenges and has already planned how to solve them and what she would do as she gets old.
If You Want to Read More Inspiring Stories for Success and Professional Growth Join the DevStyleR #Tech Influencers Community and Get Access to our Special Editions here.