Martin Dimitrov is an iOS Technical Manager at Appolica. He graduated the Technical University of Sofia with a "Computer Software Engineering" degree. Martin is responsive and always ready to help when his colleagues need help with their tasks. He works with with Swift, Kotlin and Java. Martin is helpful, knowledgeable, kind-hearted and always ready to expand his knowledge and skills.
Who do you nominate for "Developer on focus"?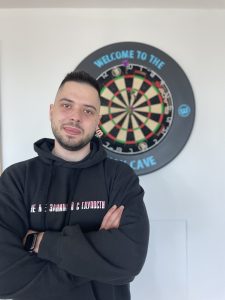 Martin Dimitrov, an iOS Tech Lead at Appolica.
What is the reason to nominate him?
Martin's constant desire to improve his skills and the fact that he is always helpful towards everybody is just one of the reasons to nominate him for Developer on focus. Martin Dimitrov has graduated from the Technical University in Sofia with a degree in Computer Software Engineering. He started his career in Appolica as an intern and has grown to being an iOS Tech Lead in just a few years. To this day, he keeps growing together with the company both on a professional and a personal level. Together with one other colleague, Martin leads the iOS team at Appolica. He is always striving to deliver beyond what's expected, while also keeping up-to-date with the latest innovations in mobile development, suggesting to use new technologies and sharing his experience with the rest of his team.
Please, tell us more about his professional characteristics.
As a developer, Martin is very knowledgeable and curious – always eager to try something new and expand his skills. This is very helpful in the field of mobile development, as things are quite dynamic and one must be flexible and easily adaptable to keep up with this pace. As a leader, he is communicative, he's able to motivate others and knows how to get things done on time. Martin takes ownership and is always ready to share his knowledge and experience with others.
What individual and team awards does he have?
During our internal Appolica Awards, Martin won the awards for "Most helpful colleague", as well as the "Giphy award" due to his "passion" for finding the most suitable gifs in every situation.
Tell us more about him as an individual?
Martin is open-hearted, has a good sense of humor and he's always ready to help his colleagues.
Can you describe how his working day goes?
His day usually begins around 8:30 – 9 am at the office and the first thing he does is to have a cup of some really strong coffee. The first half of the day Martin spends in focused work on his own tasks, as well as meetings for different projects. During lunch, the team often eats together in the kitchen, which is a great non-formal occasion to have some conversations, discussing the latest projects and any issues they might be facing. In the afternoon, Martin checks his team and how far they've come with their own tasks, while providing the needed support. The day ends with some sweet talks with the colleagues before heading home for a deserved rest.
What are his challenges? What is he currently working on?
One of his challenges is to do his best at supporting everyone on his team while maintaining his own tasks and staying up to date with new technologies. Nevertheless, he's actively taking part in Appolica's team buildings and sport initiatives, while maintaining a healthy social life. At the moment, Martin is working on a big FinTech project for a client from the UK.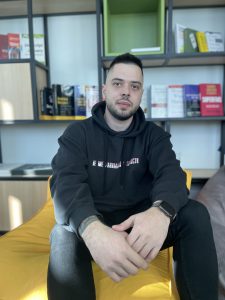 Does he help his colleagues with their tasks?
Martin is always very happy to help anyone who needs some guidance and it's one of his best qualities, which helped him get to where he is today.
Describe him in 3 words.
Helpful, knowledgeable, kind-hearted
Does he take part in the company's voluntary programs? What are they? Does he have individual campaigns?
Martin has donated blood several times and is always participating in all internal programs that we have.
What are his hobbies?
Martin enjoys playing sports, learning about the latest technology trends, and playing video games. Since last year, he has been very much into snowboarding.
What kind of music does he listen to? How does he have fun?
He pretty much listens to almost everything. His favourite genres are pop-punk and punk rock. He enjoys going out with friends, going on hikes in the mountains in the warmer months and snowboarding in the winter.
Is he interested in gaming?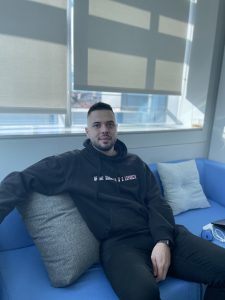 Yes, he's very much into console gaming. (but not FIFA 😉 )
What does he prefer – Android or iOS? Why?
Since the very beginning, he's been using Apple's products and also working on iOS projects.
What is his style? (clothes, character, etc)
In terms of clothing, anything casual and comfortable is Martin's style. Something that always draws attention are his incredibly funny T-shirts. He is easy-going and pleasant to communicate with.
Which programming languages does he use? Which are his favorites?
Professionally, Martin has used Swift, Kotlin and Java. Swift has always remained his favourite, as this is the very first programming language he started his career with. Even after seeing how powerful Kotlin can be, Martin still remains faithful to Swift as a preferred language for coding.
Can you tell us an interesting story with him?
I remember the day when we had the opening party of our new office and the whole team was invited to celebrate. A couple of people surprised us with a game, called Appolica's Pub Quiz (all in a pub quiz style, it just was in the office and not a pub). We all had to draw a number and got put together in random teams of 5-6 people. Martin was on a rival's team. It was a relatively tough quiz, but also things that some of us are supposed to be familiar with, as the questions varied from geography, football, technology to movies and culture. It was quite a close score between a few teams and it turned out that Martin's team worked and communicated so well that they actually won by 1 or 2 points! I remember him telling me that they just had people who knew stuff from the different categories, and he was really excited about actually getting a tough Harry Potter question that most big fans couldn't answer! It was a great night for sure.