Do you know what day it is today? Yes, It's the 9th of March – The Meatball Day. 
We all know that just the word "meatball" brings special emotions to most of us and makes us feel hungry. Back in the time, meatballs originated in the East and in Europe. With time they eventually made their way over to the US and are now one of the most recognisable and well-loved dishes.
Most of the nationalities have their own innovative ways of cooking meatballs but we all know that there is one specific career field in which people always shine in their own way no matter their nationality – The Tech People! 
Today we want to present some of the most creative ideas freshly taken from the largest and most advanced development platform in the world where millions of developers and companies build, ship, and maintain their software- GitHub.
As a starting point, a fan of meatballs from GitHub says that one meatball MUST be at least golfball-sized to at least be considered a meatball and that they should have at least two types of meat in them as well.
"After that, the customizations are endless…"
Starting with a classic recipe with a tiny twist by a developer who was asked to bring a dish based on a nominated film for an Oscars party in 2016. The movie was Star Wars: The Force Awakens and the meal was Meatball BB-8.
For this easy slow-cooked recipe you will need to have the following ingredients:
18oz grape jelly
18oz BBQ sauce
24 large fully-cooked frozen meatballs
12 small fully-cooked frozen meatballs
Toothpicks
After that the directions are simple. Combine the grape jelly and BBQ sauce in a slow cooker. Mix well. Add the meatballs to the slow cooker and stir until all the meatballs are covered in sauce. Cook on High for 3 hours. Cut the small meatballs in half into hemispheres (these will be BB-8's head). Place the heads on top of the larger meatballs and secure them with a toothpick. The larger meatballs form BB-8's body. Pour a layer of the sauce onto the base of the serving tray and place the meatball BB-8s onto the tray. Simple, right?
Next is one Americanized recipe of meatballs extravaganza.
The secret ingredient to this recipe is letting everything stew for a few hours. First, the tomato sauce requires at least 90 minutes to 2 hours. Then the meatballs in the sauce for another 90 minutes. The longer the better.
The ingredients are served for hungry programmers and are the following: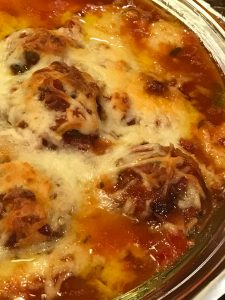 1 pound ground beef
1 pound ground pork
1 egg, beaten
1/3 cup milk
1/3 cup breadcrumbs
1 teaspoon salt
pinch of pepper
2 crushed garlic cloves
1/3 cup of shredded parmesan
1/3 cup of flat-leaf parsley
2 cups of good cheese, Swiss preferred
2 16oz cans of peeled tomatoes
1 teaspoon dried oregano
Drain the fluids from the tomato cans and put them into a pot squishing them into little bits. Add the salt and the oregano. Leave to simmer at medium heat for at least 90 minutes. Mix the remaining ingredients in a large bowl, until everything is well mixed. Make little meatballs. Drop the meatballs into the sauce. It's important not to stir the sauce and the meatballs for at least 20 minutes. After that, you can give it a gentle stir. Leave to simmer for at least 90 minutes, the longer the better. Transfer the meatballs with sauce into baking dishes, covered with lots of cheese and leave in the oven at 425 degrees F. Enjoy!
And now one idea for the pasta lovers, a Zucchini and Meatballs pasta bake. All you need is: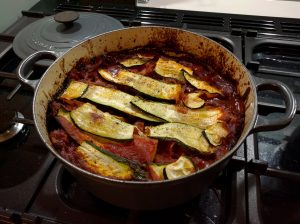 500g lean ground beef
3 zucchini
1 red onion
2 cloves garlic
2 stalks celery
300g closed cup mushrooms
2 bell peppers
1 fresh chilli
250g dry farfalle pasta
glug red wine
200g fresh cherry tomatoes
300g passata
4 tbsp olive oil
Then the steps are simple. Mince one clove of garlic and combine with the beef and 2 tbsp olive oil. Roll the beef mixture into balls approx 1 inch in diameter. Finely slice the remaining clove of garlic and fry in 2 tbsp olive oil in a heavy ovenproof dish until golden brown. Add the celery and the meatballs and cook until thoroughly browned. Roughly chop the onions, mushrooms, tomatoes and two of the zucchini and add them to fry for a further 5 mins. Add the bell peppers and a glug of red wine. Next is to add the dry pasta in a layer on top of the rest of the ingredients. Ensure that the pasta is completely covered – if more liquid is required to cover, add a little water. Slice the remaining zucchini wafer-thin and lay on top, brush with olive oil. Bake, lid off, in a 180 C / 350 F oven for 1 hour.
We believe that amongst all you, tech gurus, there are some vegetarians and vegans, who think that they cannot celebrate this day. So, don't you worry, we found something delicious for you as well.
The meal is simple and vvvveeeeegie- tasty. All you need to have is: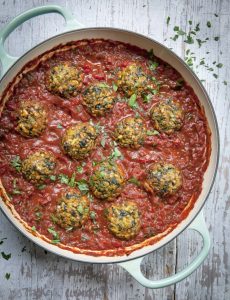 100g brown lentils
1tbsp olive oil
1 small onion finely chopped
1 medium carrot, grated
100g spinach or chard, washed and finely shredded
1 garlic clove, finely chopped
1tbsp cummin
½ tbsp cinnamon
½ tbsp cardamon
50g breadcrumbs
25g pine nuts, lightly crushed
Zest and juice of 1 lemon
1tbsp finely chopped parsley
1 egg beaten
sea salt and black pepper
For the sauce, you need to have: 
1 quantity of tomato sauce
1 tbsp harissa paste,
a small bunch of parsley, finely chopped,
a squeeze of lemon juice.
From programmers to programmers with love. Happy Meatballs Day everyone. Eat, code, sleep, repeat 🙂
With the special help of GitHub and all the tech people, who enjoy cooking almost as much as coding.
Have a tasty Tuesday!