Apple has given a lot with the iOS 15.4 beta and one of the newest features is the ability to officially use Face ID With a Mask. This support is also included for recognizing multiple pairs of glasses.
Mask support was first spotted by YouTuber Brandon Butch, who tweeted:
Well this is new 🤔 (iOS 15.4 Beta 1) pic.twitter.com/MSe7hmPGlR

— Brandon Butch (@BrandonButch) January 27, 2022
Until now, iPhone Face ID hasn't been designed to work when wearing a mask. This means customers need to rely on entering their passcode or owning an Apple Watch to unlock their phones with a covered face.
Hence, we are all excited to learn that the giant is testing Face ID With A Mask in the iOS 15.4 beta. According to 9to5Mac, this new feature works by recognizing our "unique features around the eye area to authenticate." Apple commented:
Face ID is most accurate when it's set up for full-face recognition only. To use Face ID while wearing a mask, the iPhone can recognize the unique features around the eye area to authenticate.
Here is how to use iPhone's Face ID With a Mask
* Note: Having a mask is not mandatory to set up the feature, however, 9to5Mac suggests that the feature appears to be only available for iPhone 12 and later.
After first installing iOS 15.4 there should be a splash screen to set up Face ID With a Mask on iPhone 12 or 13

If you initially chose "Set Up Later," head to Settings > Face ID & Passcode > Use Face ID With a Mask to get back to the feature and toggle it on

Follow the prompts to re-register Face ID for use with a mask
If you're wearing glasses for the first scan, iOS will ask you to remove them for the second
If you're not currently wearing glasses but do sometimes, you'll see Add Glasses button after getting the feature set up (shown below)
Additionally, you can toggle off Face ID With a Mask after setting it up and toggle it back on without having to scan in your face again. Here's how the process looks: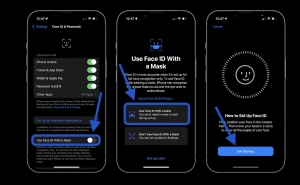 Because the feature works by recognizing and authenticating the unique areas around your eyes, it doesn't work with sunglasses.