Konstantin Chorbadjiyski is the Head of Operations & Managing Director of the UK company Godel Technologies Europe for Bulgaria.
After spending almost 16 years in the restaurant and hotel industry, holding various management positions, he decided to change the field and began to deal with the IT recruitment. For his first three years in a new role, he held various positions from a junior specialist to IT project manager in a recruitment agency.
Konstantin joined Godel Technologies in 2020. With his huge help, the company was proud to announce its first BG location in Sofia at the start of 2021, providing further growth to the local office.
In his current position, Konstantin is actively engaged in the development and management of human resources, Employer Branding strategies. He always participates in various conferences as a speaker in the field of Human Resources and Employer branding.
Konstantin, could you tell us about your career path? How did you get to this position?

My career path, I would say, is quite interesting. I started as an ice cream seller in my school years, then worked in the restaurant and hotel industry. Believe it or not, for the first 16 years of my working experience I've been working as a bartender, a waiter, a cook and a restaurant manager.
But I've always had a passion for computers and programming. When I was 15-16 years old, I bought myself books to learn JavaScript. But in Sandanski, where I'm from, there were only few people who dealt with it back then, and it was difficult for me to learn on my own so I gave up.
Knowing my love for computers, my friends recommended me to try myself as a recruiter. And since I graduated from the Faculty of Law and History at SWU with a major in "Public Administration" I thought that my other love for human resources would help me to get into new role.
So, one day I put on my LinkedIn profile "Freelance IT Recruiter" status, and it worked! Some agencies contacted me and asked me if I was looking for a regular job. Few months later I was working as a full-time recruiter.
After a year in this recruitment agency, I decided that I should separate and develop my own business in this field, wanting to show a different approach and way of working. So it happened. I started pretty good. Many of the colleagues I had met in the field asked me to work on their projects. Some also tried to attract me as an internal recruiter, but at that time I was of the opinion that I wanted freedom to work and declined every offer.
One day one of my friends introduced me to Godel Technologies. I liked the company and I saw that our values ​​largely coincide. So I started my work here. Almost 6 months passed until we registered the Bulgarian company and at the very beginning of 2021, the decision of the Trade Register was officially issued – Godel Technologies Europe Bulgaria was a fact.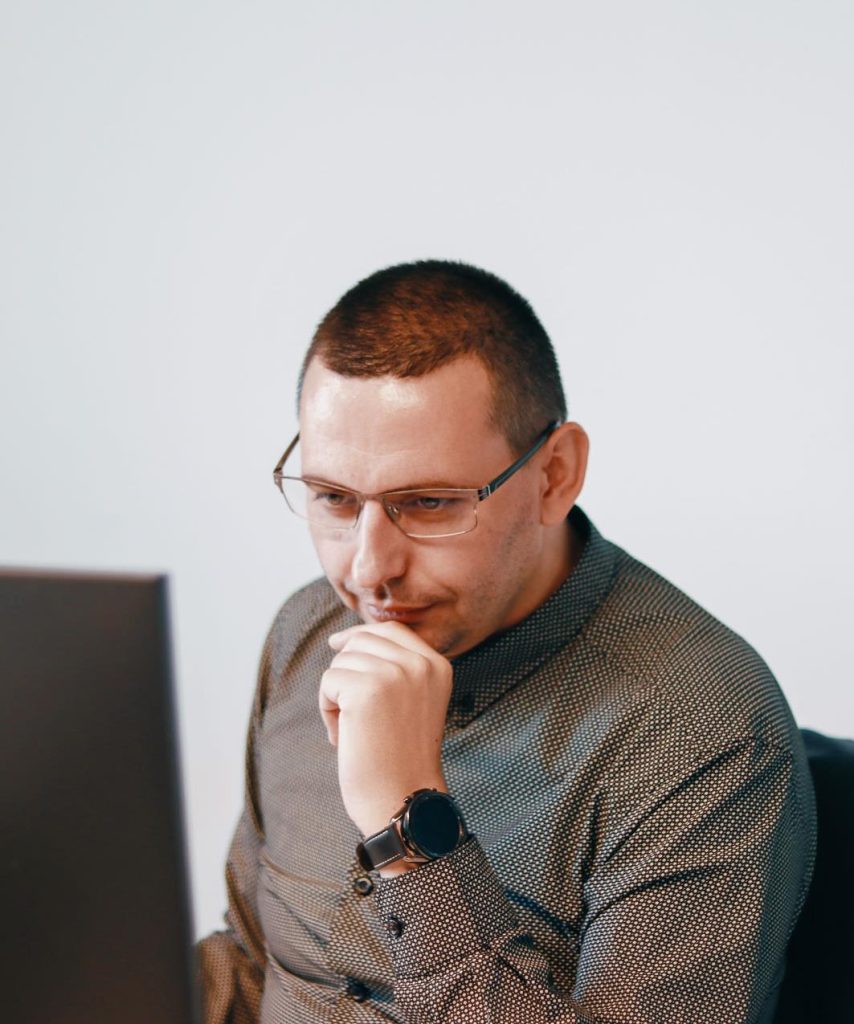 As the manager of the Bulgarian office of Godel Technologies Europe, could you share the projects your teams are working on, the technologies being used?
As I already mentioned, Godel Bulgaria opened at the beginning of 2021. For this year and a half, the Bulgarian team reached about 20 specialists, in the various directions of the IT sector. The team in Bulgaria includes specialists with .NET, Java, JavaScript (React, Angular), DevOps, Quality assurance, Data Engineers. For the moment, this is our focus of specialists that we want to develop in the Bulgarian office.
Godel has a lot of different and diverse clients, with whom specialists from different locations work. This multinationality of ours gives us the freedom to form a team with specialists from different countries.
At this stage, specialists from Bulgaria participate in various Godel projects. Mainly the projects that are being worked on are in the e-commerce, energetic and fintech industries.
How do you assess the technological abilities of Bulgarian talents at the moment? Are we able to compete in the global market?
Of course. Almost 5 years in this field, I would say that Bulgarian IT specialists are highly qualified and are strong competitors.
Our staff, whether they have graduated from a university or come out of an IT academy, have very deep and in-depth knowledge. I have always said that it doesn't matter where or what you graduated from, what matters is your desire and persistence.
You are organizing your first technological Meet Up here in Bulgaria. The speakers are leading specialists from your company. Tell us more about the event. What should professionals from the IT community expect from the event?
We have invited three speakers who are our employees in our .NET Division. This is Vitali Pukhalski, who is also the Division Manager for Bulgaria of the .NET team. Our second speaker is Raman But-Husaim, who has been with the company for over 6 years and who is a Team Lead now. And our third lecturer is Senior .NET Software Engineer Vladimir Dimitrov. He is one of the first appointed employees in the Bulgarian office.
Our main topic is "Intro", that's why we named the event "Godel Sofia Intro Offline Meet-up".  It's been a little more than 1 year since Godel entered Bulgarian IT market. The official office opening happened a year later, providing further growth to the local office. And now we are ready to get to know the local tech community better. Apart from the main topic, we will try to cover technical topics related to .NET.
The most valuable thing for everyone who is going to visite our meet-up will be new acquaintances with colleagues and like-minded people. We have set aside time for networking, both before and after the event.
We are waiting for everyone interested at the very first Godel Sofia Intro Offline Meet-Up on October 6 in Sofia Tech Park at 4:30 pm.
Register by the link here.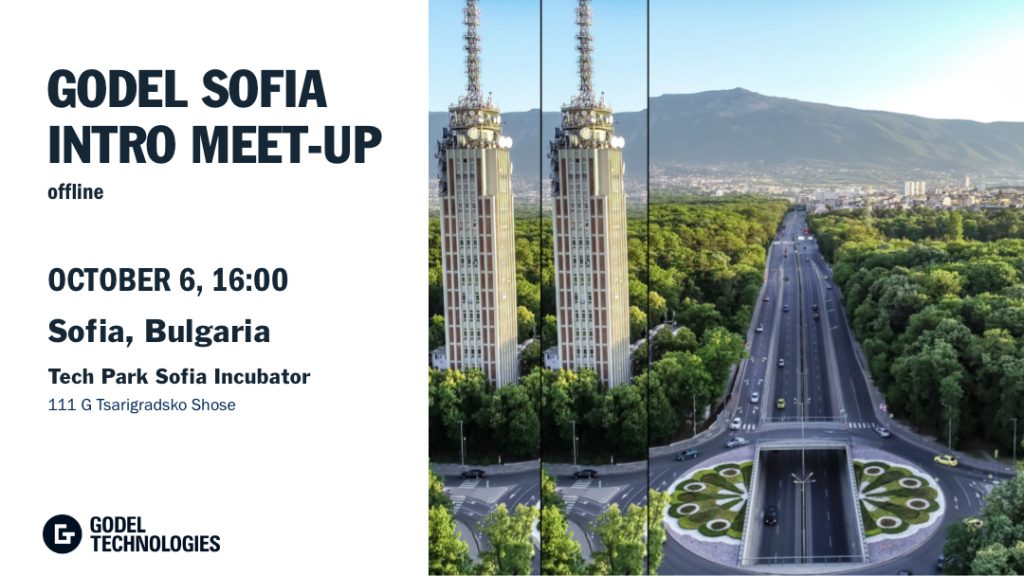 Are you about to expand your team? What kind of professionals are you looking for?
Of course. This is our leading strategy. The goal we have set for ourselves is to finish 2024 with a team of about 300-400 people. Some might say it's quite ambitious. And so it is. But I love challenges and, in my philosophy, impossible things do not exist.
At Godel, as I mentioned, we have projects of various sizes and clients operating in various business areas.
Mainly in Bulgaria, at this stage we have focused on specialists with .NET, Java, Python, DevOps, Automation QA, JavaScript (React, Angular). In the company, we also have Data Engineers, Mobile developers, PHP developers, UI/UX specialists. Every single specialist with the mentioned technologies is very welcomed to us. At Godel, we are one big family and there is always a place for one more member.
Are there any qualities that candidates must possess to become part of your team?
I personally look to see that the candidate is responsible, with a desire to develop and, first of all, is a "Human" with a capital "H". For me, attitude and behavior are leading. I believe technical things can be learnt, but behavior cannot. We all live in the dynamic environment and the rapid pace at which technology develops. But the Internet space is full of helpful materials, where, as long as a person knows how to search for the information he needs, he can very quickly cope with the tasks set.
But there is no way a person can change his behavior. But yes, technical knowledge remains leading.
What are the values behind a successful software company? What values do you hold most dear at Godel Technologies Europe?
For me, the biggest value behind a successful company is its attitude towards its partners. I'm not just talking about business partners here, but also about its employees. Companies that see their employees as partners are successful for me. At Godel, we know this well, and that's why we see our colleagues as partners.
In the company, we fully respect the so-called "flat structure". Each one of us is free to approach, even a C-level manager, and free to express his or her opinion or make a suggestion without reflecting on it. As I mentioned above, we are like one big family. And I personally like this culture very much.
I personally had the chance at the end of July to visit one of our company's offices in Europe. My visit also coincided with the office's summer party, and even more interestingly, it also coincided with my birthday. During the party, the host called me and nearly 200 colleagues greeted me with the song "Happy Birthday". After that, almost all the colleagues came one by one to congratulate me personally and get to know me. This sense of belonging cannot be described. Even, this may sound ridiculous, but for the first time in years I cried. Yes, they were tears of happiness, but they still made me cry. Colleagues from the Bulgarian office have shared the same with me, that for the first time they found a company where they feel important, and not just another appointed employee.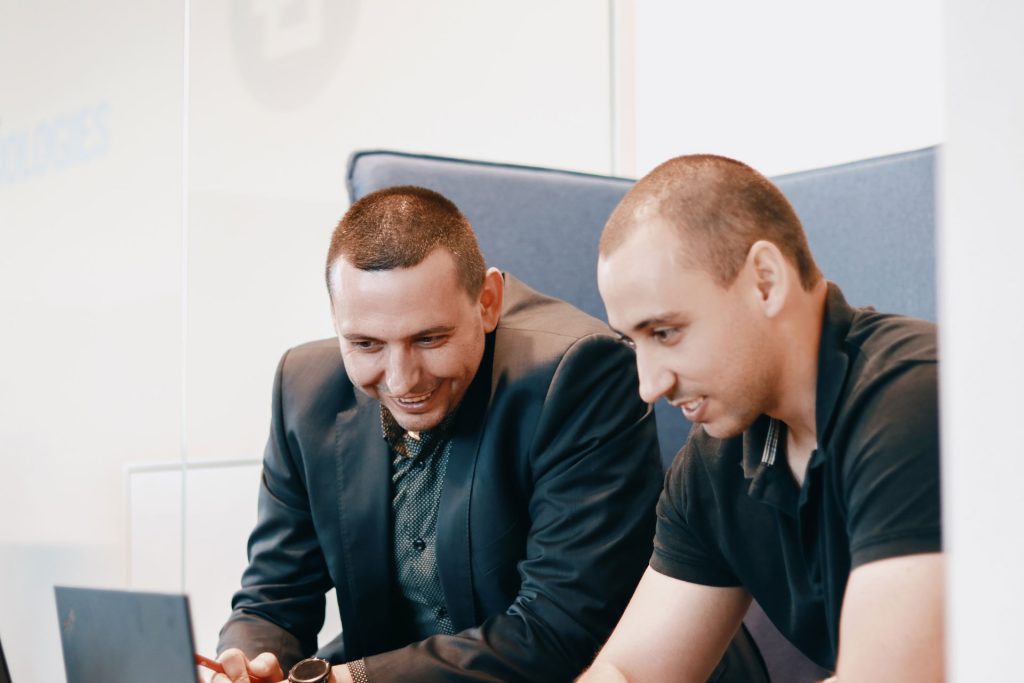 What are the development opportunities? What level can be reached in the company?
At Godel, we value our colleagues. Everyone has the opportunity to grow and develop with us. If we stop at the local level, we are still developing and every new colleague of ours has the chance to reach the position of Division Manager of a team of specialists. Currently, most of our Division Managers are based overseas, but as we grow, we will be able to locally promote colleagues to take on this role. Separately in the company we have different Functions, such as "Innovations", "Learning and Development", "Talent Acquisition", "Compliance" and so on. That's why every employee can develop not only in his standard role but also in something different.
Do you continue to learn on a daily basis in your job? What would you recommend to everyone who is just starting their career and wants to reach your level? Where to start?
Of course! Everyone can learn something new every day. My day starts every morning at 06:00 am. After making my first coffee, I have a habit of checking out a few sites that have been leading in my career and reading useful articles in my field. Apart from that, I attend various seminars and conferences. Some of the best teachers, however, remain my colleagues, both locally and globally.
My advice is not to give up. Before you hear your first "Yes", you probably will hear "No" a hundred times. But this should not dissuade people. You should always be persistent and motivated and above all – do everything with love. When one does something with love, then things work out. Also, to remember that the biggest enemy of success is sitting in the "comfort zone". Going back in time, if I hadn't taken the step of leaving a well-paying job and branching out as a freelancer, maybe someone else would be in my shoes now. And I will end by saying that "fate favors the brave".