Miglena Ouzounova-Tsekova, Senior Human Resources Director and Member of the Leadership Team of A1 Bulgaria, Chairperson of the Management Board of Bulgarian Association for People Management.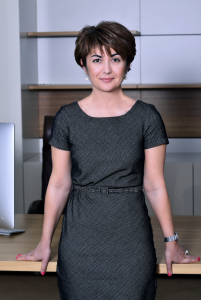 Miglena Ouzounova-Tsekova has more than 20 years of experience in human resources management. In 2002 she joined the HR team of A1 as Head of Recruitment and Selection. In 2007 she took the role of Human Resources Director and since June 2016 she is a Senior Director and member of the Leadership Team of the company. She is currently responsible for the full scope of the HR function in A1 Bulgaria – operational and strategic. She sees as her main achievements the strategies in the areas of employee engagement, organizational design, talent and career management, leadership development, employee wellbeing – all in the course of HR transformation through the years. On top of developing and implementing an integrated approach towards HR responsibilities and tasks, based on the employee lifecycle in the company, Miglena Ouzounova-Tsekova succeeded to position the HR function on a strategic level in the organization, as a partner to the business. Ms Ouzounova-Tsekova is the Chairperson of the Management Board of the Bulgarian Association for People Management and a member of the Management Board of the Council of Women in Business in Bulgaria. In February 2021 she became a member of the Economic and Social Council, as a representative of the BAPM. She has a master's degree in English and American Studies and a specialization in Mass Communications from Sofia University St. Kliment Ohridski. She holds an MBA degree from Erasmus University, the Netherlands, in a joint program with the Faculty of Economics at Sofia University. Miglena is also certified in Strategic HR Management by Cornell University, USA, and coaching by Columbia University, USA.
"Girls shoudn't put borders on themselves, but have to follow their dreams. Be brave girls, and never give up!"
Favourite clothes? 
Dresses. The truth is though that most of the time I wear trousers. It is convenient and they could be combined according to the occasion- formal, casual, sports.
High heels or flat shoes?
Both, I choose according to my clothing. I want my shoes to be comfortable, but also pretty.
What is the obligatory thing in your bag without which you do not go out?
My smartphone – I cannot imagine myself losing connection.
Favourite lipstick colour?
Just lip gloss – with natural colour.
Which typical female quality or responsibility is alien to you?
I do not believe that we should divide our qualities, and especially our responsibilities, according to gender. People are different in many other criteria; other factors affect their way of life and work – such as upbringing, family environment, education, society. The gender gap has been a factor in the past. In the 21st century, women succeed and cope at an equal pace with men at work and in the family. To answer your question specifically – nothing feminine is alien to me, but I also handle successfully a lot of male responsibilities.
Which cause are you currently supporting? 
I am very proud that A1 supports numerous socially significant causes, for example, foster care, for which we partner with the National Foster Care Association. During the difficult 2020, we supported 375 children from vulnerable families so that they could remain with their parents. A1's entire investment in the cause in the last 10 years exceeds half a million leva.
Through the Payroll Donation Program, my colleagues and I also support a number of NGO causes – Animal Rescue Sofia, "Our Premature Children" foundation, Tacitus Center, the "Ready for Success" scholarship program. We also support young educators from "Teach for Bulgaria", the foundation "Eyes on 4 paws", "Project Northwest", the Fund "Treatment and Rehabilitation of Children", as well as the foundation "Dare2Care". Personally, I support the causes that help children – to be healthy, to have a family, good education and to succeed in life.
Can you share something specific about you that we cannot learn from LinkedIn?
I played the violin and sang in a choir during my school years. I love music and I will always fondly remember the time of rehearsals, concerts, and tours.
Read More Inspiring Stories for Women in Tech in WRTech here.
Do you think that the problem of gender inequality is still relevant in Bulgaria and around the world?
Unfortunately, yes. This is certainly a fact in some countries and it is the result of the development of society – due to cultural, historical, social and religious circumstances. In Bulgaria, however, women have always worked. The homemaker job is not familiar to my generation. That is why I believe that we, as women, have an equal start, but the next step depends on each individual – what are her ambitions for success and how far her dreams extend. I am convinced that when efforts have been made to learn and improve throughout their careers, knowledgeable and capable professionals would not allow themselves to be discriminated based on their gender.
In my company, we motivate and reward people based on their achievements, not according to gender. We have a number of programs that provide opportunities for training, upskilling and reskilling in many professional fields – ICT Academy for Business Sales, Knowledge Club, which offers topics for professional and personal development for everyone. We have also a Talent development program, where top graduates proceed with an MBA degree. We offer specialized programs for leadership development, digital skills and more.
In A1 the share of female and male employees is almost equal, where females are 45% and males- 55%. Of course, in some areas, there is a slight predominance of men (IT) or women (Finance), but when we look for talent, we do not limit ourselves in the name of statistics. The key decision factors in the candidate selection are knowledge and skills, not the gender or age of the applicants. Currently, key positions are open in IT, for which we strive to attract new colleagues – software engineers, in the following areas: React JS, React Native, JavaScript, Net Core, Java. We also have positions for Data analysts, Big data engineers, DevOps engineers, system administrators specializing in Linux and Windows. We expect the best.
"You have to believe in yourself. When you have the desire and the ambition to succeed, there is no way you cannot do it."
Have you ever encountered any challenges in your career just because you are a woman?
I would not say so. My experience shows that when you are confident in your qualities and make an effort to develop professionally, it does not matter whether you are a man or a woman. The challenges I faced in my career were not related to gender. I think that in our society the topic is overexposed because there are many successful women in different professions, and they all succeeded because they had the necessary qualities and ambition. Women need to believe more in themselves and their abilities.
Do you know how many women work in your position?
I cannot say the exact number, but in my profession, there are mostly women. In many companies, the position of the HR director is positioned high and is on an equal level with the business leaders in the organization.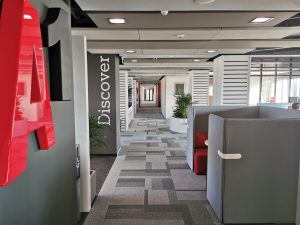 What policy does your company follow in terms of encouraging diversity?
In A1 we strive to attract the best specialists without distinguishing by gender, age, ethnicity or other characteristics. What is important for us is people to love their work, to be ambitious, creative and open to new ideas. We work in many different areas. We are increasingly developing as an IT company. We also offer specialized ICT and IoT solutions for business, fintech solutions for end customers, TV channels, etc. We have no prejudices regarding the experience of employees. That is why we have been developing an internship program for over 15 years now, with which we give the opportunity to hundreds of young people to get acquainted with the real business environment. I am glad that over 30% of our interns remained as our employees.
Part of my role as a business leader regarding A1's policies as an employer is to support the development of good professional qualities and the achievement of results. I believe that this is the right way to promote diversity – we look for the best professionals and we take care to create a favourable and motivating work environment.
Supporting that, this year, together with our colleagues from A1 Group, we are launching a series of seminars on "Unconscious Bias", by which we aim to draw attention to the prejudices that we do not realize, but which we encounter in our daily lives. We believe that awareness, open sharing, and transparency on the subject will also help to promote diversity in the company.
How do your male colleagues perceive you in the company? Do they treat you differently? 
They see me as a partner. They respect me for my work and commitment, for the achievements of my team. In A1, I have not encountered this type of narrow-minded thinking; it is not part of our corporate culture and our attitude towards life.
"The key decision factors in the candidate selection are knowledge and skills, not gender or age of the appicants."
Do a woman's looks and charm help her to be professionally more successful? (Example: does it make communication easier?)
Professional success cannot be "bought" with charm, it can be earned with knowledge and expertise, with proper communication and the right behaviour in the business environment.
How do you manage to balance your personal and your business life? Do you have a rule that you follow? 
It is difficult, but I manage to handle it with good organization and prioritizing. Work-life balance has long been obsolete because it is impossible. I personally try to integrate them by giving priority to what is important at the moment. The truth is that I juggle my tasks every day, but I also rely a lot on the help and understanding of my family.
In A1 we strive to create a pleasant and productive working environment, giving the opportunity for flexibility in terms of working hours and place. On the campus, we are providing a kindergarten for the employees' children, a fitness centre, a doctor, a psychologist. We have a number of initiatives in support of parents for the upbringing and the education of their children. We organize seminars with advice on healthy eating, sports and others. We try to be up-to-date with the offers for finding a reasonable balance in the lives of our employees – health, family, work, children, and friends.
"Women need to believe more in themselves and their abilities."
In your role of Senior Human Resources Director and a member of the Leadership Team of A1 Bulgaria, what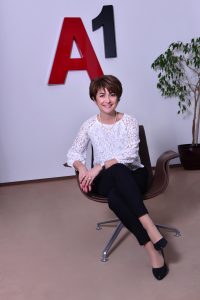 do you think are the most important qualities for us to be successful in this field?
The technology sector is one of the fastest developing worldwide and this determines to some extent the temperament of the people who are in this industry. They are energetic, ambitious and eager to constantly learn, develop and improve themselves. I believe that in today's dynamic life, it is even more important that people in business, and especially in the IT sector, are flexible and adaptable to change and that they do not stop learning. Consistency and perseverance in achieving goals are also important, as well as proactivity in work.
What advice would you give to young ladies who decide to develop in the technology industry?
First of all, you have to believe in yourself. When you have the desire and the ambition to succeed, there is no way you cannot do it. I want to emphasize that the IT industry is not just for men. Young ladies should not put on brakes but pursue and fulfil their dreams. Be persistent and do not give up on your dreams!
How does one day of yours go? Where do you get your inspiration from?
Quite dynamic and always interesting. I work with many colleagues – from my team, from the Leadership team, managers and employees from all structures. They all have different topics to discuss and the variety is broad. Sometimes the work process goes beyond the preliminary plan, but I am already used to it and I just rearrange my tasks. I always follow the rule not to leave today's work for tomorrow.
Inspiration comes from within, from the desire to do it and the satisfaction of the achievement. Of course, the recognition and trust of my colleagues are important for my energy and motivation to move forward.
If You Want to Read More Inspiring Stories for Success and Professional Growth Join the DevStyleR #Tech Influencers Community and Get Access to our Special Editions here.