Matthias Zeitler is a location-independent entrepreneur working on a range of exciting projects. His passion is in community building and entrepreneurship. He is a partner at Coworking Bansko, a base for people that rather work together than alone in the amazing Pirin mountains. Once a year he organizes Bansko Nomad Fest, a week-long celebration of the location's independent lifestyle. Matthias is the managing director of Greenbone Networks Bulgaria and is building a software development team in Bansko that focuses on IT security and vulnerability solutions.  
Where does your passion for community building and entrepreneurship come from?
I started my own business, about 10 years ago, and I located my team into a coworking space. At that time coworking was new, people didn't really know what to expect, and I really enjoyed this community of people around me and that we are all working on interesting projects. So at some point, I decided I want to build my own community. I chose Bansko for it, and I think it's a really great place.
You regularly speak and mentor at various tech, coworking, and startup events. What are the main characteristics that we must possess if we want to be successful entrepreneurs?
Well, I think it's super important to have a vision that you want to accomplish like you need to know where you're going. And then you really need to focus on that goal, and you need to have the energy to push through barriers, to kind of deal with people that don't believe in what you're building, you need also to ask them if you're doing well. And I think the most important aspect of being a successful entrepreneur is to be able to go through these phases where the success is not very clear yet, and where you have to make it happen.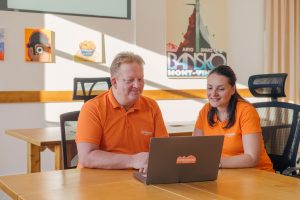 You hold a diploma in computer science and engineering. How do you integrate your knowledge into community building and entrepreneurship?
It's been a long time since I studied. I think it's super important to listen to what other people can tell you. I also did an MBA at Santa Clara, after my diploma in engineering. And of course, all these experiences, listening to people that may have been already further along the entrepreneurial journey that had some successes before, all this is super important to also build your own solution.
What is the role of free and open-source software in your business? Do you use such?
For Greenbone, we are building IT vulnerability solutions, meaning that we check systems in computer networks for vulnerability. And in IT security, it's very important that your customers and your users can trust the code because they're integrating it into their networks and to depend on it for defending against IT threats. So our business is built on open source. I think open source is one of the main aspects of Greenbone that we connect to shows a source code. Everything that we do to our customers, they can audit it and see what's going on.
In your opinion, what is the professional level of technical knowledge in Bulgaria?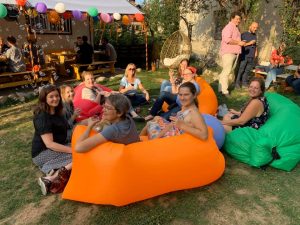 Bulgaria, obviously, is a very developed country. There are many amazing universities that bring out a lot of IT talent. There's a big IT community especially in the larger cities like Sofia and Plovdiv. And I think this offers a lot of opportunities to do amazing things in Bulgaria.
Can you tell us more about Greenbone Networks Bulgaria and the software development team in Bansko? Why did you choose Bulgaria?
So I personally came to Bulgaria, a few years ago, because I thought it's a very interesting business environment. So there's a flat income tax of only 10%, they're very reasonable social security contributions.
It's an amazing country to live in, and I came here to take advantage of this. A while ago I convinced one of the founders of Greenbone networks that Bulgaria also offers a lot of opportunities for companies to build teams here, and to develop amazing products. So we decided that we will try this, and we will build a development team in Bansko. Of course, at this moment a lot of the jobs are remote and our jobs are remote as well. We work in a distributed team in different countries all around the world. But we want to build a centre in Bansko, where we will have a lot of teams building amazing products.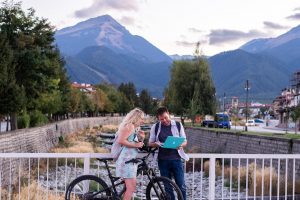 How do you find it working in the mountains? Do you believe that the environment reflects on our performance?
Yes, I think it's more and more important that we locate ourselves in places that are good for our soul, where we have a really good experience in our life. Personally, I don't like cities. I think cities lack energy. You're always stuck in traffic jams and there are too many people. So I think being able to choose to work from wherever you want to work offers an opportunity to also choose environments that are really in nature.
Where does your idea of creating an office park in Bansko come from? Who is the target audience of this Coliving project?
Well, I have been here in Bansko for the last five years building a coworking community for digital nomads. Initially, this thought was just for a few of our friends, but in the meantime, I think Bansko has developed into one of the most vibrant hubs for digital nomads with about 130 members, on average. Now we have about 40 people who moved to Bansko. But most of the people that come to Bansko are entrepreneurs, freelancers and remote employees. So my vision for the next step and growth for Bansko is to attract companies. If it's great for freelancers to live here then I think it will be also great for teams. And this is the idea of the office park and also the Coliving Project, where we want to create an environment that is also very suitable for companies.
What are the major coworking space trends in 2021?
All this is really difficult to say because when you look around there are still a lot of countries that have severe restrictions because of the pandemic. It's very unclear to people what the future of offices will look like. Now a lot of people are experiencing how it is to work from the home office, but I think this will have a significant impact on the future of work in general. So on one hand, there are a lot of places where coworking and coliving are growing very fast, but there's also a lot of places that are currently in a transformation. There are companies that are trying to figure out how much of that staff have to be located in their offices in the future, and how much of the staff can be distributed and remote. So I think it's a super exciting time to be around and to see how this is shaping.
How do you see the coworking business industry in the next 5 years?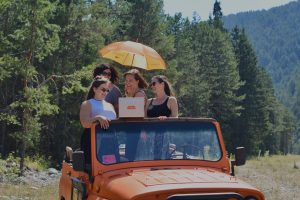 I believe they will be hybrid. There will be staff that have to work in the office. Mostly because some business functions are really based on the fact that you have to be in the same room with some people to innovate. But there will be a lot of business functions where we don't have to be in office anymore and this will have a very significant impact on not only how coworking works but also for example how urbanisation works- if people will live in cities in the future or people will move back to the countryside. For example, in Bulgaria, there are a lot of smaller cities and towns that are being depopulated because a lot of people have been moving away in the last few years. But I think now, there's an opportunity for people to work from wherever they want which also includes smaller cities and rural areas. And of course, this will also drive the demand for coworking spaces in those areas. Because if you experience working from home, it gets very lonely very fast and you get distracted by all the things that happen in your house or in your apartment. So I think people really want to have a combination of being able to work around other people. Maybe not only people from the same company but people from different companies, which also creates an interesting and diverse environment for innovation. But people also want to work from home. So, I think companies will react by making the workforce way more flexible in the future than in the past. And this will also have an impact on how office spaces and co-working spaces and shared office spaces are being used and created in the future.
And last but not least, let's speak a little bit more about the OpenFest 2021 which just happened the previous weekend. At this year's OpenFest you spoke about Open Source Sustainability. Why did you choose this topic? What are your main objectives?
Well, I really enjoyed OpenFest. For me, being part of the open-source community and also showing up, talking with people and seeing where we can collaborate with other people is super important. The reason why I chose open-source sustainability instead of a technical talk is that very often as a community, we only talk about technology and we talk about the code but there's a whole ecosystem around it. Greenbone has not only chosen open source because of its technical advantages but because open source is the main strategy for our business. I wanted to share this and also raise the awareness that open source is really a major part of the business strategy and not only technology.