Deb Goodkin is the Executive Director of the FreeBSD Foundation.  Deb has been with the foundation since August 2005. She has spent 20+ years working in marketing, sales, and the development of data storage devices. She earned an MSEE from the University of Santa Clara, and a BSCE from the University of California, San Diego. In her spare time, she likes to run and walk. Anything that takes her outside her home is what she tries to do. 
Deb took over the main stage of this year's OpenFest2021 on the 14th of August 2021 with a lecture named: "Embrace FreeBSD to let your Innovations soar". During this lecture, she described how the FreeBSD Project works, how we can contribute to the Project, which is some of the differences between FreeBSD and Linux and what are the reasons why individuals and companies use FreeBSD. 
You have joined the Free BSD foundation back in 2005. You were the first employee who has been in charge of running day-to-day operations with the foundation. Can you tell us a bit more about what has inspired you to join this field in general and how this led you into the foundation?
Well, a long time ago when I was accepted to the University and had to pick a major. So I went ahead and picked computer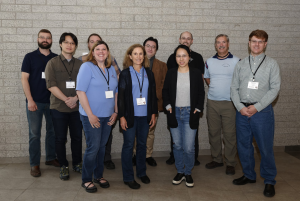 engineering because it sounded interesting. I wanted to be able to get the skills where I could work anywhere in the United States. I was also good at math, so I thought "Well, okay, that was a good fit." So I went ahead and studied that, and I found that I love the challenge and found it interesting. This degree provided a lot of opportunities to me even when I graduated. I can't say what year that was, it was a long time ago. Then after college, I was doing low-level firmware engineering for a long time. I didn't know anything about open source, because everything we did was proprietary. The first time that I learned about open source was when Justin Gibbs was looking for someone to run the foundation, and so he interviewed me and basically, the rest is history.
You're a female engineer, in your opinion, do you think that there are enough women in STEM? How could we develop more inclusive, and equal environments in this field?
That's a good question. So, what most of us don't like is to be referred to as a female engineer or just as an engineer, but it just happens that we're also female 🙂
But anyway, to answer your question, now there are not enough women in STEM. And STEM includes science too. I don't see any reason why there shouldn't be 50: 50 There are a lot of great opportunities in STEM careers, and none of them is gender-specific. I'm constantly asked:  "What do you know from companies, how can they get more women engineers or developers?"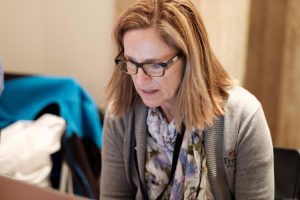 So I try to encourage girls to at least explore STEM careers, and it just gets them exposed to female role models, because if they see them then they will believe that it's something that they could do. This morning, when I was checking Twitter I saw a quote that actually sorts of resonates with your question. It comes from the CEO of "Girls Who Code", and what she said was that we tell young women in our programme that you can learn to code and literally change your community and the world. And it's true! So it's really seeing outside the stereotype of what a typical programmer looks like. It is indeed hard for companies to make themselves more inclusive and equal. And I believe that companies need to make the environment supportive, inclusive, and they should value their companies and this isn't specific just to women, but it's just important. It's an important philosophy, and it allows some flexibility in their work schedules and provides mentoring and guidance. And then, more specifically to retain female engineers they should encourage and support networking opportunities and huddles and help provide female mentors, and definitely add more chairs to the table so that women aren't competing for those limited spots.
For those who are not familiar with the FreeBSD foundation, what kinds of things it does, and what are some of its main objectives?
So, one thing is, the FreeBSD Foundation is totally separate from the FreeBSD project. In the US it's classified as a 501(C)(3) organization which means that we're a public charity and so our whole purpose is for the public good. So we're here to support this free and open-source computer operating system. Our whole mission is to support the project and the community. Some of the main things that we do are we do have software developers on staff, and they'll step in and mainly implement new features. A lot of times they spend time reviewing, changing things, as well as fixing bugs. So we're able to help, step in quickly to make fixes and changes. And we're also growing our team. Over the past year and so we're able to do more of that as well as we're really looking at some major features that we will be able to implement. The other area that we support is advocacy for the project. And so we go to conferences like Open Fest, or we also hold a FreeBSD series online like this to help connect and educate the community to really get the word out, making sure FreeBSD is part of the conversation when people are talking about open source and operating systems. Тhose is the two main areas that we support. But our main objective is not only to support the project but a step in and critical like critical needs of the project so if there's an area they need help with. If we have the resources we could step in and help. And then, the reason why we camped out was to hold the FreeBSD IP which is mostly the trademarks. We do hold on to the trademarks of the project. So, we're a consistent place or resource for the project. People in my team may come and go, but the FreeBSD foundation will be a stable entity, so will the project.
Can you share with us how you recruit new people?
So at the FreeBSD Foundation, we don't have volunteers, but the project does. FreeBSD is an open-source project, and they have 1000s of contributors, and so we're always looking to bring on new people to use FreeBSD and or to contribute to the project.  And how do we do this?
We go to conferences and give talks to raise awareness about FreeBSD and hopefully get people interested in wanting to get involved. We spread the word over social media about FreeBSD slots. A contributor is actually a part of the way they contribute. They'll spread the word, so they might see a YouTube video on FreeBSD. They may read a blog post on "Why I use FreeBSD and you should too?" And then the other place would be at school, so we're trying to bring FreeBSD in as an option of when professors are teaching operating system courses that FreeBSD is part of that conversations or education.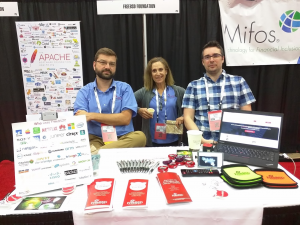 Do you need to have previous experience to contribute to FreeBSD? If yes, what kind of experience do we need to have? 
Okay, that's a good question. So I'd say yes or no depending on what you want to contribute. So, yes, if you want to be a Kernel developer (Kernel is part of the operating system), then, yeah. You need to come in with programming experience. It doesn't have to be a senior level, but you do have to have some type of background in programming. However, there are so many other areas that you can contribute without experience. And so that's why I think that if you're participating in an open-source project, it is such a great way to gain experience. For example, I always think, even if you're a coder, you should just start helping with documentation because that's a great way to learn just about the operating system and FreeBSD, and so you can come in and you'll learn about the tools. In that way, you can help, or maybe explain things a little clearer in the documentation, fix errors, add explanations for things that are in there.
Then you can also contribute by doing a video on your experience or even show us how you're using FreeBSD. There's a lot of folks who do that. You can write blog posts. We always take guest blogs, bloggers, and we have marketing, advocacy and if you're a sysadmin we have a whole team of system administrators who are helping the project. We have security folks. So there are many different places where you can contribute, and then really hopefully gain more experience, and have fun and have some marketable skills to get a better job.
Can you tell us what operating system you use?
So, to be honest, I do use a Mac, actually, I just got this MAC maybe two months ago.
I use Mac OS, but a lot of people know, maybe a lot of people don't know that a Mac OS was originally created by using components of FreeBSD. I mean there's actually a whole long history and I won't go into that here, but I mean, it used BSD and then Apple replaced a lot of those components with FreeBSD. So a lot of times they will say: 'Oh if you're using Mac OS you're using FreeBSD.' A lot of us actually do use Mac OS because of that, but most of my developers on my team do use FreeBSD, and I have a FreeBSD computer behind me on the floor that I use to play around with it. And I need to do it more, because my background is not in operating systems, and so I'm always trying to learn more.
Can you tell us what are the advantages of FreeBSD, compared to the other operating systems?
So, they have proprietary operating systems and then you have open source. Compared to proprietary Windows and Mac OS, you have a lot more control of your computer. On my Mac, I could go to the terminal but I mean really, they have the GUI front and there's a lot of software that they add that you're forced to use whereas when you're using FreeBSD. You could set up the base operating system and then add what you want. So you have a lot more control, comparing it to open-source operating systems that would really be like Linux distributions.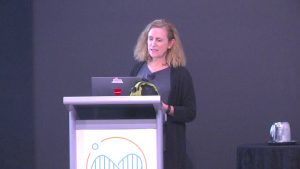 So, one of the main differences is that FreeBSD is a whole operating system. This means that you get the userland, and the tools and the kernel, and versus Linux is the Kernel. So you have all these other distributions. And, and so ours is this cohesive system put together by one team, and also tested as such.
The other thing that's a big difference is the permissive licence. And so, like Linux distributions use a GPL license. With a permissive licence, BSD licence, then users can actually take their code and make their changes put in their IP if they want and they don't have to give it back. Now most companies do, but there are a lot of companies out of these pretty cool embedded systems like PlayStation by Sony. They could take the operating system, they can put on their own changes and tweaks, and they don't have to give it back. And that's okay, that's part of what this licence is about. And so there's a lot of companies that use FreeBSD because of that. We have a core team, so it's more democratically run versus having one benevolent dictator like Linux. We also have a very long history with Unix. I mean we descended from the Berkeley Unix which descended from Unix and was created over 50 years ago. So we have this long history of this architecture, and not just process, and standards. We have this philosophy called Pola and its philosophy of least astonishment. So you don't make a change unless you have to. We don't really have this hacker mentality so it ends up being a little more reliable and stable and secure. And our code size is much smaller. The last I looked, our kernel slides so just the FreeBSD kernel, so it's not the whole operating system, was about five and a half million lines whereas the Linux Kernel was 35 million. So I mean, a much smaller amount of code. And so I mean I could go on and on about some of the differences but those were sort of the main differences between FreeBSD and Linux distribution.
Let's move slightly to the Open Fest. Can you tell us why you decided to join the Open Fest 2021? What are your expectations from this?
So, I know that there's a really strong, open-source community in Sofia, and I thought that this would be a great venue to talk about one of the oldest and most successful open-source projects around. I was in Sofia a few years ago, we actually had a BSD conference there. And so I got to meet a lot of local people, by doing these free hikes, free walks and it was great, it was a great way to learn more about the culture, to meet people from there. And, so I sort of fell in love with that and I thought this would be a great opportunity to talk about FreeBSD. And I'm hoping the next time I will be able to come in person because obviously, I was unable to, right. I know we all wish that. Really what I hope to get out of this is spark an interest in attendees and get a few folks to try FreeBSD and hopefully contribute to the project.
Can you share with us where you get your inspiration from in a professional way?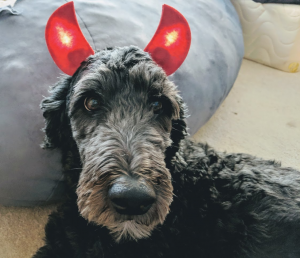 Well, I think I get a lot of inspiration in my personal life and I think a lot of that translates into my professional life. And the biggest place I get my inspiration is music. Some of the lyrics can be so inspirational. I'm an active outdoors person so I run and walk every day, and so I do one or the other every day. I'm listening to music, and some of it is inspiring though just writing down, so things that they'll say in the song, and I think that that really helps. Leaders who come from adversity, I read their books, and I follow them on social media. I follow groups like "Black Girls Who Code", "Women Who Code", and just like that quote, I had earlier.
A lot of those groups have been highlighting accomplishments of women in science and tech who we've never heard of before because they're not documented in history. And so I think reading their stories is really inspiring. And, then I just follow certain people here in the United States, like Stacey Abrams and Michelle Obama and others. This great historian, Heather Cox Richardson who writes daily, and I have learned so much from her. Many leaders in the open-source field inspire me and so do the members of my team.
How do you prefer to spend your free time?
Well, like running and walking, I do that every day. Then I saw I live in Boulder, Colorado, and so we are at the base of the Rocky Mountains, and so I love to hike. I try to go up to the mountains. I mean basically, the mountains are just across the street from where I live, so I try to run up there or hike up there all the time. Anything that takes me outside, that's what I try to do, even in the winter when it's cold.
Last but not least, what is your message to all beginners and contributors to the open-source project?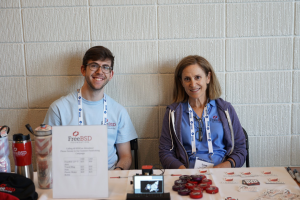 I would say, first answer the question, "Why", "Why do I want to contribute to an open-source project?" And then once you have that answer, explore the different communities or projects out there. There are 1000s of them and find a community that resonates with you and aligns with your interests and values. Once you get involved in the project, don't be afraid to ask questions. Make sure you also ask for what resources are available, because I know with our project we have a lot of documentation that's available to new and experienced folks. So you want to make sure you have a way of finding out that information too, besides just asking the questions.
Also, just join the appropriate mailing list, forums, Facebook groups, Twitter accounts. We have all that within the FreeBSD project too and you can follow them all, or you can follow the one that works best for you so that we do have a Facebook group. The questions that are asked are from basic beginner questions to more experienced ones and what I found watching it is that people are always respectful and helpful with their answers. This it's so important because it's so easy just to say "read the handbook" and they may say that but they always say it in a really respectful way because that might be the right thing to do. So I'm always impressed with the community and how they interact, and I would just say if someone is treating you or being rude to you I would probably won't tell you to join this project because you're there to learn and really to volunteer and to make it better. And so, you really want to get constructive and helpful feedback. So that's the advice that I have.
We all have to push really hard to get it up to the top and even beyond, right?
Yeah, right.
Thank you so much for this interview. I really hope that we can see each other in person next year at the same Fest and everything is going to be fine- no more pandemic, no more social distancing, no more remote work. 
Yes. Oh, wait a second, remote work is what we do here. So we'll still be doing that.
How do you find it?
Yeah, I love working from home. And it allows us to have people from all over the world. So I have staff members from Hong Kong to Kyiv. It's hard with the time difference but we do meet people, we meet on Zoom or other tools. We do try to meet in person at least once a year at some of our conferences, and the goal is that we're gonna have a staff retreat, and a summit next July in Iceland, so that's our goal.