Svilena Handjieva is a Head of Automations Department at Raiffeisenbank Bulgaria. She manages Test Automation and DevOps teams ensures the adoption of industry best practices in terms of test automation, continuous integration and delivery, deployment and security.
The Head of IT Automations Department at Raiffeisenbank Bulgaria, Svilena Handjieva, shares with us that being a leader is a big responsibility and at the same time very satisfying and inspiring to her. She manages Automations testing teams and DevOps. She is an extremely natural, positive and radiant persona who constantly inspires her great team. A person who turns each failure into a 'learned lesson'. The most important task of hers is to motivate her team to come up with new ideas, to suggest new approaches for optimization and successful work. She is a firm believer that technologies are the future and they give us the opportunity to be innovative. She ensures the adoption of the best practices in terms of Automation testing, continuous integration and delivery, as well as deployment and security. She coordinates and plans the distribution of tasks among the members of the department. In her opinion, being experienced in the sphere is not enough as long as you aren't able to maintain good and topical expertise. In order to keep her professional level at its highest, Svilena takes part in different engineering initiatives, attends forums and social events. She is constantly exchanging experience with experts on implementing different tasks.
"I always look on the bright side of things and I always turn small failures into learned lessons."
Favourite clothes?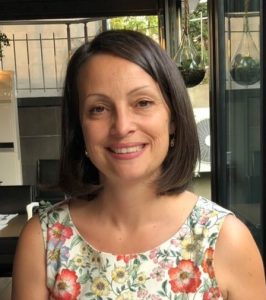 A dress, a dress, a dress!
High heels or flat shoes?
High ones.
Which is THE thing you never go out without?
A phone, a wallet, a debit card… and other 'important stuff' you can find in a woman's bag.
Favourite lipstick colour?
Red.
Which is the feminine duty that you don't possess?
I find cooking annoying, but it's not foreign to me.
Which cause are you currently supporting?
I take part in different initiatives created by Raiffeisenbank through the campaign "Choose to help". Thanks to our charity initiative, I annually support causes regarding health and social life, as well as causes related to protecting the environment – cleaning the area around Vitosha, planting trees.
Can you share something about yourself that we can't find on LinkedIn? 
I am a very natural, sunny and positive person. I communicate with people easily, I find balance in communication and don't make conflicts. My 'sixth Sense' is never wrong, especially when I'm looking for talented people for the team.
Have you ever faced challenges in your career regarding the fact that you are a woman? 
I wouldn't say so.
Read More Inspiring Stories for Women in Tech in WRTech here.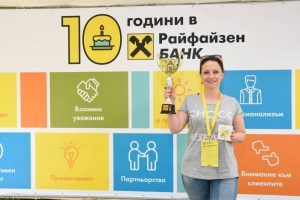 Do you know how many women work in your position?
There are many of them. There are different forums and social initiatives, in which only women working in the IT field take part. Many of them are working in managerial positions. At Raiffeisenbank 50% of the managers on my hierarchical level are women.
Do you think that the problem with gender inequality still exists in Bulgaria and globally?
I think there is no such problem in Bulgaria, but there are many countries around the world, where women are not equal to men in a professional aspect.
What policies does your company follow in terms of encouraging diversity?
Encouraging diversity by creating an atmosphere where we understand, trust and respect each other, building an environment where everybody can develop their potential and contribute with their uniqueness, are some of the biggest values of Raiffeisenbank. Following our Code of conduct and Policy for encouraging diversity, the bank organises different initiatives regarding equal rights and developing an open working environment.
How do you get along with men in your company? Do they treat you differently?
I believe that they think of me as their colleague, I haven't noticed them treating me in a different way.
"I try to give positive feedback almost daily – for each achievement of the members of the team."
Do you think that a woman's appearance and charm affect her professional success? (example: does it make communication easier?)
I guess it does but I don't use such methods on purpose and I can't be explicit. What helps me personally is good behaviour towards my colleagues, as well as responsiveness and empathy.
 How do you balance your work life with your personal life? Is there any rule that you follow? 
It's hard. I try to spend more time with my family and make my days off work free.
Which sources would you recommend to us? (podcasts, webpages, influencers, YouTubers, etc.)
Oh, there are many of them! Everything about software testing and DevOps practices – personal pages of leaders in those fields, as well as "Soft skills for IT people".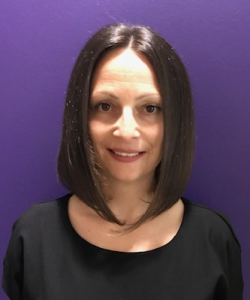 As a Head of IT Automation, would you share with us which is the most exciting part of your job? 
I wouldn't say that being a Head is exciting. But it is very inspiring and satisfying. I have a great team, full of motivated and ambitious people, who definitely love challenges and know what they want to achieve. Working with such people is very easy – they turn themselves into successful drivers. I just give them the "sparkle". I've given "chances" to junior specialists with minimal experience to become part of the team because I've seen potential in them and now most of them are experts who continue to work for us on different projects. I always look on the bright side of things and I always turn small failures into learned lessons. I try to give positive feedback almost daily – for each achievement of the members of the team. Even saying "congratulations" makes miracles! That motivates them to give new ideas, to suggest new methods on how to optimise the process of work between each other and between the other teams. That's what inspires me.
What inspired you to get involved in the technological sphere?
Technologies are the future. They give us endless possibilities, which we can use to suggest products, which we don't just construct, but innovate.
You are a long-experienced specialist in the field of the IT Industry. How do you keep developing in the sphere of technology and is it needed, as you already have solid experience in that sphere?
A solid experience is not enough as long as you can't keep good and current expertise. The tendencies change very dynamically in the sphere of technologies and in order to be able to satisfy the needs of our customers, we have to be very acknowledged of the new trends and technologies in the global marketplace. Personally, I take part in engineering initiatives, which are part of Raiffeisen Bank International and Raiffeisenbank Bulgaria. I visit forums and social events related to software testing in order to be informed and exchange experiences with experts for implementing different decisions in our practice.
Which are the essential qualities that every Head of IT Automation should possess?
To communicate well with the team, to imprint trust, to support them, listen to them and help them develop their skills.
If You Want to Read More Inspiring Stories for Success and Professional Growth Join the DevStyleR #Tech Influencers Community and Get Access to our Special Editions here.