Elitsa Taskova is a Product Owner at Nexo, who has been part of its engineering team from the very beginning. Elitsa runs key projects such as Nexo Exchange, Earn on Crypto & Fiat and is not enslaved to stereotypes. She believes that when we know that we are important in every moment of our work, then gender is irrelevant. 
A coding aficionado with a university degree in Engineering, combined with the invaluable encounter with multi-disciplinary cognitive science. Imagine all these qualities put together in a professional who holds a leadership position at an innovative company. Here she is, Elitsa Taskova — Product Owner at Nexo, Bulgaria. She has over eight years of experience in creating and managing software products for major fintech companies. Elitsa has been part of the engineering team since its very beginning and leads key products such as the Nexo Exchange and Earn. Elitsa holds the belief that the most valuable characteristics she has acquired during her academic years are discipline, holistic thinking, confidence and flexibility — mandatory skills for the dynamics in the crypto industry. She strives to plan her workday before it even begins and sets realistic goals — the only way to gain more than a few productive hours. Her personal discipline is the key to a balanced lifestyle. She is convinced that when you are forging the path of limitless, deflationary finance, there should be only one team as the goal is of utmost importance. As driven as she is, Elitsa adds that in Bulgaria the IT environment is still dominated by men but this can be changed easily with more focused education programs and resources, shared professional experience, mentoring and personal example. According to her, the problem with gender inequality has not been relevant in progressive companies for a long time. In addition, mass digitization as well as the COVID-19 effects have significantly reduced inequality on a global scale. Elitsa takes pride that in the Nexo team everyone feels like one big family because being through thick and thin creates a strong community. Everyone in her team shares the belief that when you purposefully fight for one idea and you put your heart and soul into the endeavour, gender doesn't matter. So, when the team's heart is at the right place, everything's possible. In her free time, Elitsa likes to read non-fiction literature, explore new ideas and keep an active lifestyle. She tends to often challenge herself, convinced that fortune favours the brave. For experienced professionals like her, the biggest motivation is to be on the top of the game, stay ahead while using the latest technologies to create impactful products.
"I attempt to develop "Humanistic" Qualities – They have no Gender"
Tell us something about yourself we can't find on LinkedIn.
I've studied programming for a while, graduated in Engineering and got short and yet extremely valuable experience with multidisciplinary cognitive science. Perhaps it is that mix of interests and experience that led me to the shoes of Product Owner at Nexo at the time when the company was just starting. Joining Nexo was true serendipity and since then I aspire to constant progress at a tremendous speed. My team and I are responsible for the Nexo Exchange platform which allows immediate exchanges between 100 crypto and fiat pairs, a one-stop-shop for the NEXO Token and other crypto and fiat currencies, as well as other key products — Earn on Crypto & Fiat which allows customers to generate passive income from their assets in the most secure way. I am proud that I've been part of the development of what Nexo stands for today — one of the leading crypto companies in the world with signature products that redefined the crypto ecosystem. We created it here in just three years and busted the myth that a Bulgarian company cannot stand side by side with the global visionaries we read about every day. I hope you do realize the significance of our success – we have built and positioned an entirely new business niche with our own products here in Bulgaria. In my free time, I like to read specialized literature, to exchange ideas with my friends – face to face! and to be non-stop on the move.
Have you ever faced challenges in your career for being a woman?
Challenges are questions such as these about shoes and clothes and 'women-only pros' sections — they are the ones deepening the divide between co-workers, where in reality there is no such thing. I strongly believe that no matter how you describe yourself, if you truly believe in your ideas and expertise, combined with strong motivation, you can bring them to life and I'm surrounded by like-minded people. Nexo makes you feel you're always on the right track, mistakes make you 'antifragile'. This inspires us to strive for greatness beyond the familiar notion of 'good and safe'. This is the only way we can achieve what we aim for — the Moon. Talking about challenges, honestly, I live and breathe for them, as we all know — fortune favours the brave. In my opinion, this is the only way to grow both personally and professionally. One big step ahead can elevate you all the way to the moon. This is exactly what we do on a daily basis — we tackle challenges and excel ourselves every single day.
Do you happen to know how many women hold a position similar to yours?
Many of the leadership positions are led by women, contrary to popular belief that finance and technologies are areas favoured by men. This also confirms my personal conviction that there's no gender divide when we work for something bigger than 'just a job'. Every day all my colleagues leave their mark in history — we push the industry forward and attract more and more like-minded people who have the same goal — a decentralized financial world where sharing economy and digital finance are a catalyst for change. The IT environment in Bulgaria is still dominated by men and, of course, there are a number of reasons for this. However, this can change in the right context and with the necessary resources — education, sharing professional experience, mentoring and, last but not least, personal example. Both individually and as a company, we are debunking this trend. The results are at hand — more and more women join us ambitious to unleash their full potential at Nexo.
Do you believe that the problem with gender inequality still exists in Bulgaria and globally?
It's been a while since progressive companies haven't faced this issue. Mass digitization which was accelerated by COVID-19 has reduced unnecessary gender inequality globally. Nexo's trifold priority is expertise, experience and enthusiasm and the numbers speak volumes — we've increased our transactions five times in less than six months reaching $30 billion, while managing assets of over $15 billion. All this is achieved only with the right people — top professionals. Having this in mind, I wish all companies were like ours.
Read More Inspiring Stories for Women in Tech in WRTech here.
What policies does your company encourage regarding gender diversity?
We pride ourselves on the zero discrimination policy — that's why our team is so diverse. Colleagues of all ages are buzzing around the office. Speaking about my female colleagues, it doesn't matter whether or not we have children. When schools were shut down due to COVID-19, we set up on the premises a daycare corner for our colleagues' kids which we jokingly call '#cryptodaycare'. It is fascinating (and noisy) to share the workspace with the next generation of crypto enthusiasts.
How do you get along with your male colleagues? Do they treat you in a different way?
Nexo has that authentic family vibe. Supporting one another is a way of work — we've been through thick and thin together and this forges an unbreakable bond. Gender really doesn't matter when one has a clear purpose and puts blood, sweat and tears in the game. This may seem too ambitious but I'm sure it applies to the entire Nexo team.
How do you achieve a work/life balance? Do you follow any rules?
Personal discipline is the key to achieve work-life balance. In terms of my work life in Nexo, first, we take into account our internal schedule and our individual needs and then decide when, where and how to work. That is how we achieve great results and pure productivity. I'm not saying that I am disciplined enough not to spend 10 hours in a row on the computer but I do my best and I have all the prerequisites to achieve my own balance.
Which info sources would you recommend?
I get my regular updates from Twitter, Reddit and various newsletters such as The Block, Coindesk, Decrypt, Robinhood Snacks and Morning Brew. I highly recommend the podcasts The Pomp, What Bitcoin Did and Unchained. Following the pulse of the Bulgarian IT sector is vital, so of course Devstyler and for local crypto chats — Sofia Crypto Meet-up and other groups.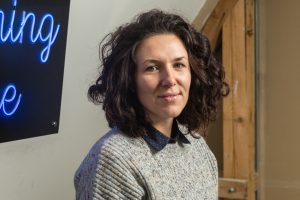 Which specific skills and knowledge from your education – bachelor in telecommunications and master in cognitive science, do you use at your current position as a Product Owner?
Academic institutions provide only what you are willing to take. Personally, in those years I built discipline, holistic thinking, the confidence to cope in a new environment, and adaptability — mandatory skills for the dynamics in the crypto industry. This happens only if you stay enthusiastic about your area of expertise and hungry for knowledge from other fields. Undoubtedly, 21st-century knowledge is a mix of applied academic theory, practical experience and, above all, critically selected information from the sea we all have access to — the internet. Unfortunately, Product Owner-related university curricula are still rare to find but I believe that the profession will become a separate discipline in the future.
What inspired you to pursue a career in fintech?
The biggest motivation for a professional is to ride the wave of innovations and strive to work with the latest technologies in order to create meaningful products — this is what crypto is all about. We prove every day that financial tools are not necessarily exclusive, ineffective, complex and clumsy. This makes the crypto sector even more attractive — we are all equal here and we can bear the fruits technology brings. We've already witnessed the advantages crypto brings in our everyday life, however, there is more to see — greater social importance where we put our financial freedom to work for the greater good.
Which is the most important professional quality you've developed as a result of your experience in the tech industry?
First and foremost I'm proud that there is a Bulgarian company that takes over the world and I have the opportunity to play an active role in this crusade. In this story, you don't need to be in California, New York or London to get to the top of the game and to better the lives of millions of people. Getting to know the personal stories of numerous people from across the world builds a certain empathy. Regardless of the context, envиronment, education and career path, the instinct to strive for more stability, more freedom and social wellbeing is deeply rooted in us. This is what binds us all together at Nexo and makes our mission close to our hearts.
"Every day, both men and women leave their marks on history, push the industry forward and attract more and more like-minded people who have similar goals"
How and where should work/life boundaries be drawn given that everything happens at one place? Can you please give us some examples and tips?
Boundaries appear once you accept your own vulnerabilities. And this is a feeling I do not appreciate. We have to be patient with ourselves in order to find our own rhythm, bearing in mind that it might be completely different in two, three or five years. We live in a hectic world that provides us with limitless possibilities, and if we want to enjoy them we have to accept our own limitations. My personal barrier is when I feel like not being the best version of myself. Then I take a breather to rethink my habits. So far, what works best for me is to plan my workday before it begins and set realistic goals, so I can achieve several productive hours, keeping in mind that the plan might change in a heartbeat. I've started planning my leisure time with the same enthusiasm and got convinced how important it is to pass the same level of responsibility and attention to detail to our personal lives, too, in order to feel fulfilled and satisfied.
High heels or flat shoes?
Flats, of course. That's the work of evolution. We even walk barefoot at the office as we value our comfort and freedom.
Which is THE thing you never go out without?
A book. I am currently skimming through 'the crypto bible' which was published in Bulgaria, thanks to my colleague George Manolov.
Which is the feminine quality that you don't possess?
I'm not a slave to stereotypes — one of the reasons I'm in crypto. Even I strive to further enhance more humane qualities.
What cause would you support?
I'd support any cause which breaks the status quo with a constructive purpose in mind.
If You Want to Read More Inspiring Stories for Success and Professional Growth Join the DevStyleR #Tech Influencers Community and Get Access to our Special Editions here.