Linux and Open-source jobs are in more high demand than ever according to the latest "Open source jobs report" by The Linux Foundation and edX.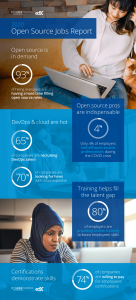 Qualified open source talent is still in short supply – 93% of hiring managers report difficulty finding sufficient talent with open source skills, up from 87% two years ago. At the same time, the open-source pros are indispensable – only 4% of employers laid-off open source experts during the Covid-19 pandemic. 
Online training gained popularity during the COVID-19 era too. A full 80% of employers now report that they provide online training courses for employees to learn open-source software, up from 66% two years ago. 
Cloud technology is hot – speaking about knowledge domains, hiring managers report knowledge of open cloud technologies has the most significant impact, with 70% being more likely to hire a pro with these skills, up from 66% in 2018. 
DevOps pros have risen to the most sought after job role, with 65% of companies looking to hire more DevOps talent, up from 59% in 2018.