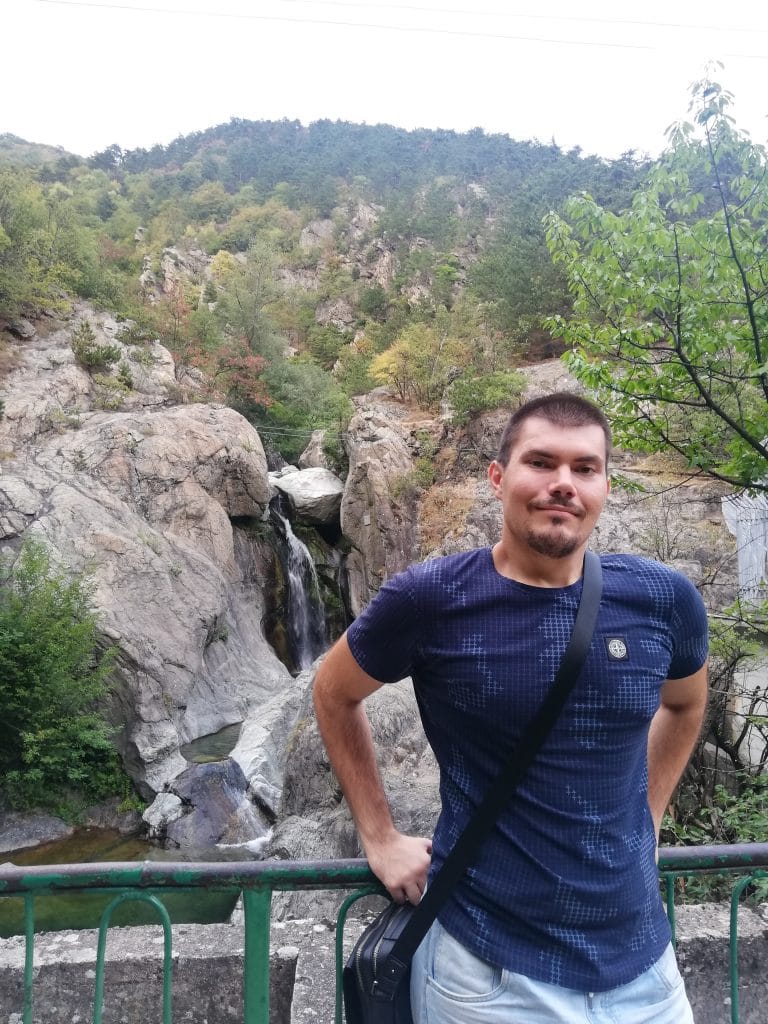 Who do you nominate for "Developer on focus"?
Ivo Nikolov, Associate professional programmer analyst in DXC Technology Bulgaria
What is the reason behind your nomination?
Ivo deserves to be a Developer on Focus because of his unique inspiring career path that proves everything is possible if you are passionate about it.
Ivo studied Marketing and entrepreneurship in Scotland. Back in Bulgaria, he landed a position as a Digital Marketing and Sales specialist at DXC. Always eager to learn new things, he decided to take a course in Programming basics with Java and immediately fell in love with coding. He quickly found out that all you need to get started in software development are a problem-solving mindset, curiosity and patience to go through the trials and errors to the successful compilations. This new passion brought him to make a surprising career turnaround. Despite not having any technical background, Ivo wanted to work as a developer and applied for such a position in DXC. His enthusiasm and passion were rewarded, and he started working as a developer on a project for a multinational insurance company. With the new position came new challenges. The job required learning a new programming language specific to the development of DXC Insurance. Without hesitation, Ivo took the internal training and now works as a well-rounded software engineer.
Describe his professional qualities.
Ivo strikes as a professional eager to learn but what makes him a good developer is his impressive problem-solving ability.
Tell us some more about him as a person.
When he's passionate about something, Ivo invests himself 100%. Challenges are what keeps him going forward.
Can you describe how his typical day goes?
For Ivo, every day of the week varies in terms of routine. Starting work at 9 am, he tries to go through all administrative activities to raise his speed and sharpness. After that, he switches over to the supporting development tasks when his attention to detail is at its highest. In the last 1-2 work hours he prefers to check the completed work, debug and fine-tune the code wherever possible. Following the end of the workday, he goes to a kickboxing session to relieve himself of any stress and meet with friends. And last but not least, before going to bed he watches a video lecture from one of his programming courses, going the extra mile in his software development path.
What challenges does he face? What kind of projects is he working on?
His daily challenge so far is to become as confident as possible in coding with the new programming language. Always striving for perfection, he wants to give his best working on the development of an Insurance solution platform for a DXC customer.
Does it happen sometimes that he helps his colleagues in the execution of their Tasks?
Maybe it is Ivo's mixed profile that makes him such a good team player and he doesn't miss an occasion to help a colleague in need. Currently, he is collaborating with a QA specialist to find bugs in the platform.
If you had to describe him with 3 words only, what would they be?
Studious
Passionate
Dedicated
What are their hobbies?
Reading as much as possible for pleasure.
He has chosen kickbox to be his workout and sport activity, but he also likes outdoor running.
When it comes to travel, Bulgarian historical places are his favourite destination.
What kind of music does he listen to? How does he like to have fun?
His choice of music depends on his mood, ranging from old school disco classics from the '80s to contemporary electronic dance music.
In his free time, Ivo meets with friends and loves going to standup comedy shows. Another passion of his is hiking trips.
Does he like gaming?
When it comes to gaming, Ivo used to play online football-oriented games such as FIFA and PES. Now his favourite game that keeps him up late at night is coding.
Which does he prefer – Android or iOS and why?
As an end-user, he has always been on Android and doesn't intend to change.
Despite both systems having pros and cons, with Ivo old habits die hard.
What is his style?
His style is rather casual and prefers comfort over trends.
What are the programming languages he uses? Which are the ones he prefers?
His first programming love and preferred language is JAVA. But he also works with GraphTalk – a coding language specific to DXC Insurance platform development.
Can you tell us an interesting story about him?
Ivo shared a fun story that happened to him recently. Currently, he's attending a course on Windows system administration. Instead of installing a virtual machine on his computer, he wiped up his entire PC with Windows Server and immediately started looking for a professional to reinstall his computer. Until he realized that HE was the professional in question and did it himself.