Switching careers is an evolving trend in Bulgaria. As one of the most modern and flexible industries on the market, the IT sector welcomes more and more specialists, no matter their background, gender, or age. Making a change is not that easy because of many superstitions.
Let's find out if it's that difficult on the example of Petar Mitev. Petar followed an outstanding career path until he reached his true calling as a Quality Assurance Engineer at Devexperts, a leading global fintech company.
Petar, what is your current position at Devexperts?
I'm a Junior Quality Assurance Engineer.
And what have you done before?  
I used to do other, hugely different things. I studied arts: theater, acting, and film directing. I've worked at other companies, but again, it had nothing to do with what I've learned at college, and as of recently, I'm a QA engineer.
Was it intimidating to change careers so drastically?
Intimidating… No, I wouldn't say it was challenging. It wasn't a switch to another career as we know it. It was more about my personal struggle to mentally adjust to the fact that I wasn't going to do a certain thing anymore and would have to start over in a different direction. It wasn't technically difficult, but emotionally it was a hard process.
And why did you choose QA as a career path?   
I found myself in the definition of a QA engineer. I tried to feel what it was like to be in that role. And I loved it. I hadn't come across a role before that suited me as an idea, as a job.
Was it hard for you to learn the new skills you needed for this job? 
I wouldn't say I've encountered many difficulties. Like with anything unfamiliar, you go through a learning curve and start to overcome little by little. It's just that every day you encounter some little difficulties that you must go through, and, issue by issue, you learn, and you grow.
The company you start working for also plays a significant role. My team did everything for smooth onboarding and probably here is the time to thank to my amazing team leader, manager, and colleagues for all the support, guidance and help I needed. I value a friendly and positive atmosphere at work, if you're looking for the same, Devexperts is a place to be.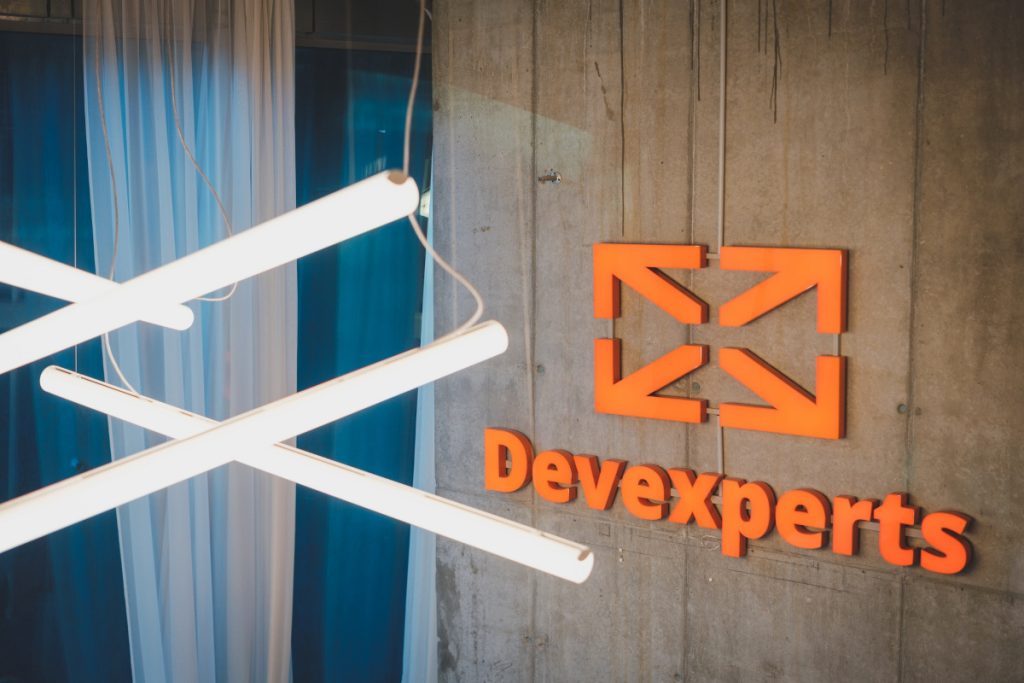 What has been the biggest challenge you've faced during this turn you've made in your career development? 
It was discovering where those points of contact were between the things I had done before and my current position. In the beginning, when I was starting to develop my new knowledge, I was sure there were things from my previous experience that I could bring to my current position. Over time I discovered quite a few.
Such as?  
For example, the analytical consideration of a problem. I found a great similarity between analyzing a role as an actor and analyzing an IT problem as a QA engineer. As different as those two things are, some general rules apply to how one analyzes, be it a text or a case. So, I became convinced that no matter how big a career change one undertakes, no matter how definite the change of fields seems, there are always useful things that one can carry over from one's previous experience to the present.
A good guidance can help one discover such correlations and use them to gain new knowledge and develop existing skills. Devexperts launches the internship program in 2023, I'm sure it will make a massive impact and help people like me find their place in this industry.
And how did your family and friends react when you decided to make this big change?  
Weird, to be honest. Those closest to me were prepared for it, after all I had told them I was already heading into new projects, so it wasn't too much of a surprise for them. But let's just say, my friends and close people I don't meet that often were incredibly surprised when they found out I had a new profession, had dropped everything, and was starting over in a whole new field. Yes, they were shocked. Of course, questions followed: why, how, what for, but in the end, they supported me in my decision.
What do you enjoy most about your work now, and why?
Solving problems gives me great pleasure. Every time I must find a solution to a problem and succeed, I get very charged up!
And what do you miss most from your previous profession? 
Hmmm…maybe that emotional release an actor can achieve on stage through acting. It serves as therapy. I miss the feeling of complete relaxation in my work, in front of people. On the other hand, now I have another freedom that I didn't have before, like being able to set my own hours, and plan my own time.
This flexibility is extremely convenient. For example, I can start the day whenever I want, for a night owl like me it's just what the doctor ordered. Also, the hybrid working mode is amazing. Thanks to my new profession I can work from the comfort of my home from time to time. Lovin' it.
And what would you say to someone who is planning to change careers?  
I would tell people who are wondering not to wonder but to try. There is no guarantee that they will succeed, but there is also no guarantee that they won't fall completely in love with their new career. On that note, I would like to mention something. More than 10 years ago when I first heard about QA and checked out what it was all about, I found it an extremely boring subject. And now, 10 years later it is one of the most interesting roles for me in an IT company. People change, and there's no way to know what they're good at and what they're really into unless they try.