New data from Synergy Research Group shows that the value of data center-oriented M&A deals that closed in the first eleven months of 2020 surpassed the $30 billion mark, leaving far behind the previous annual record set in 2017.
With a number of potential December deals still on the table, 2020 has so far seen 113 deals closed at a total value of $30.9 billion.
Since the beginning of 2015, Synergy has identified 483 closed deals with an aggregated value of $107 billion. Over the period the aggregated deal value has been split equally between public companies and private equity buyers, while private equity buyers have accounted for 59% of the deal volume. Over the 2015-2020 period, by far the largest investors have been Digital Realty and Equinix, the world's two leading colocation providers. In aggregate they account for 31% of total deal value over the period.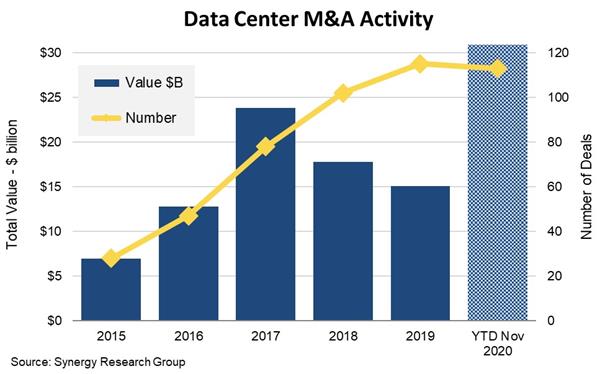 "There is no doubt that this has been a bumper year for data center M&A activity, despite COVID-19 inevitably slowing down some transaction and due diligence activities," said John Dinsdale, a Chief Analyst at Synergy Research Group. "We are also aware of almost $7 billion in deals and IPOs that are at various stages of closing, so the pipeline remains robust despite the flurry of activity in 2020. This drive to find new sources of investment capital is being fueled by an almost inexhaustible demand for data center capacity."
Source: Globenewswire