The lack of an efficient means for recycling plastic waste on a large scale is a pressing concern that's starting to take a serious toll on the environment.
According to a 2016 report from the World Economic Forum (WEF), research suggests that by the year 2050, there may be more plastic (by weight) in the ocean than fish.1 The use of plastics, the WEF notes, "has increased twentyfold in the past half-century, and is expected to double again in the next 20 years."
Recently, Samsung Newsroom spotlighted eco-friendly initiatives that Samsung Electronics has undertaken as part of its decades-long commitment to sustainable innovation. Here, we'll outline the company's efforts to combat e-waste and promote a circular economy by recycling resources safely and efficiently.
A Simple Solution
E-waste recycling is a complicated process that involves disassembling or shredding old devices to recover useful resources. To help simplify the first step of the process, collecting e-waste, in 1998, Samsung Electronics initiated a take-back and recycling program in Korea. Now known as the Re+ Program, this free service, which lets consumers dispose of old smartphones and appliances by dropping them off at Samsung stores and service centers, was up and running in a total of 54 countries.2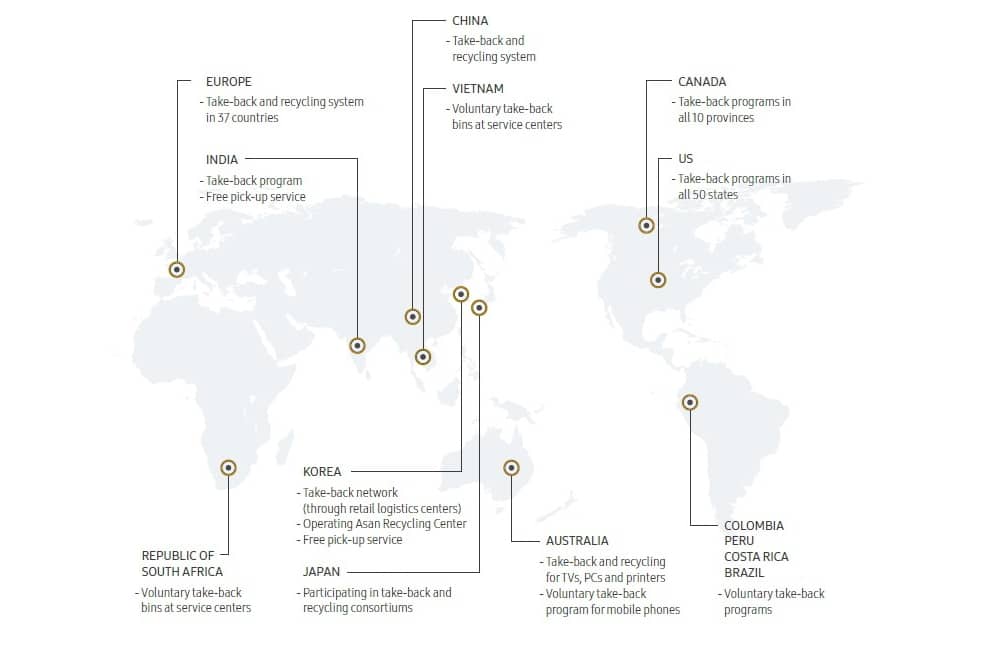 Once a smartphone has been collected, its battery is removed and processed separately. Rather than burning the battery, as is common when electronic devices are discarded, Samsung will instead dispose of the battery safely and in an eco-friendly manner. The smartphone batteries go through four processing phases, which include salting, perforation, drying and fragmentation stages. Any cobalt, nickel or other rare metals that are extracted during processing are set aside for use in new products.
Once an old appliance has been collected and transferred to a recycling facility, it's put through a preconditioning phase that helps ensure that it's processed efficiently. Here, any devices that would decrease in value if they were subjected to the first stage of the recycling process, which involves crushing the devices to extract resources such as steel, copper, aluminum and plastic, are separated from the rest.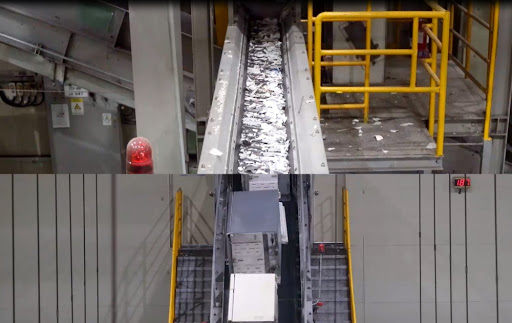 After the devices have been pulverized, an automated procedure sorts the extracted resources by type. The post-processing required to transform these resources into raw materials is completed not at the recycling facility itself, but at offsite smelting firms.
Making a Difference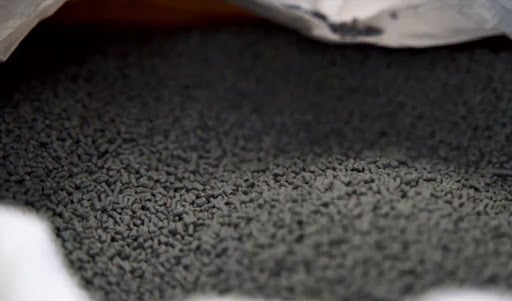 As part of its commitment to creating a circular economy, Samsung Electronics has established an increased use of recycled plastic as one of its mid- to long-term goals. The hope is to utilize what amounts to 500,000 tons of recycled plastic by 2030. Since 2009, approximately 220,000 tons2 of recycled plastic have been used to create new products. Recycled plastic is not only difficult and expensive to process, it's also known to be hard to use because the quality of the final product varies more widely than with metals.
Youngjin Seo, Director of Samsung Electronics' Product Environment Team, shed some light on the importance of these recycling efforts from a business standpoint. "Recycling plastic from discarded devices not only helps reduce e-waste, it also reduces the amount of petrochemicals needed to produce new products," Seo explained. "This is why resource circulation is especially important to businesses."
You can watch the recycling process in action in the video below. See how a device – in this case, a refrigerator – is collected and broken down at a recycling facility, and how plastic is extracted and reprocessed for use in new devices.
1 The World Economic Forum, The New Plastics Economy: Rethinking the Future of Plastics (2016.01.19)
2 As of 2018.