An interview with Todor Gigilev, CEO at Dreamix.
Dreamix is a custom software development company that delivers projects by the highest enterprise standards and with great devotion. We spoke about their projects, achievements, innovations, and future plans.
Mr Gigilev, Dreamix just got to the Top 24 most innovative companies that are entering the UK market and you are among the top 3 competing finalists in the "Al and Data revolution" stream of the 2021 UK TechProsperity Program. What is the feeling to start the new 2021 in that way?
Actually, it is super exciting because I have never believed we could make it out of 640 companies as I am pretty sure all of them are quite innovative. Of course, we have many success stories in the UK and are currently working with the University of Manchester to innovate the industry of 4.0 space. I thought we were doing something great but still had many areas to improve. So I was really delighted to see that Dreamix is in the top 3 and actually tomorrow we will be participating in the semi-finals and will see if we will make it to the Top 3 in total. Tech Rocketship Awards has been one of the longest-running events that we have taken part in and it's not as easy as submitting an essay. There is a jury panel that is inspecting every application.
Can you tell me more about Dreamix and its team? What about the products/solutions?
Actually, we started Dreamix 14 years ago as a standard software service provider. Afterwards, we grew more and more in several specific areas so right now our team consists of over 100 people in total in Dreamix Group. We are very focused on Banking and Fintech, also having great experience in manufacturing, digital health and pharma. Lately, we've been focusing on creating AI solutions in those three fields as we have seen that AI is quite beneficial when it comes to automation. For example, we've built a solution that enables a standard camera to pick faulty items from the conveyor belt, instead of relying on employees for the same task.
What challenges do you face in the process of developing AI/ML software solutions for industries like finance, banking, healthcare, pharma, manufacturing etc.?
I would say that the main challenge right now is the uncertainty which follows. Everybody knows that AI and Machine Learning can help to solve many issues but nobody knows to what extent. For example, if we have a training set of data, let's say 1000 images, and you want to find anomalies in it. It would be hard to tell the degree to which the task would be successful. Could be 99%, however, it could also be 89%. For some industries, 89% is a really good result but for others, you really need that 99%. So what we do is to always start with a proof of concept project. Beginning with something small for which we could share the cost with our partner and then once we estimate how much success we can reach, we are really ready to deal with enormous projects and automate the whole industry.
I've seen in a post that Dreamix is working closely with The University of Manchester on Industry 4.0 topics. Could you share more about that collaboration?
This collaboration started thanks to the Department of International Trade in the UK. They introduced us to the University of Manchester and many other organisations. We are actually really enthusiastic about our focus on automating manufacturing as this industry generates 40% of the exports of the entire UK. Second of all, the World economic forum has estimated that AI and Machine Learning reduced the waste in manufacturing by 60%, which is a great impact. And right now we all know that we are fighting to clean up the planet and the best way to do so is to stop producing waste. We discussed that if we can optimize the production lines, if we can stop the production line at the moment when it is not working well, if we can also reduce the time when machines are failing, then we can really optimise this cycle and reduce the bad emissions.
About the collaboration with Manchester University, I would say that it is actually one of the oldest universities in the world. They have found graphene and they also discovered the atom. It is an intriguing university. They have a very strong faculty of 4.0 and Dreamix is delighted to work with such experts.
Are you working with other universities or R&D centres?
Yes, there is one very interesting initiative here, in Bulgaria. Sofia University is partnering with Chalmers University in Sweden to create a project called "Gate AI" which is focusing on the development of AI solutions. As we have always been closely related to Sofia University, we constantly seek ways to support these kinds of initiatives.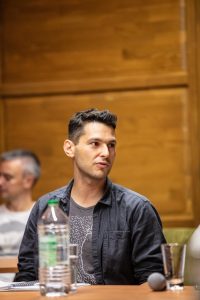 You are currently the CEO of Dreamix, and you have been long working in the tech industry. How long does it take to make the transition from software developer/engineer to manager?
It takes a day [laughing]. But reaching that day takes a long time. When I was a junior software engineer I was always thinking about the framework, about how clean my code is, about the architecture, about my ID and programming languages. I have always been so focused on my work. When I was growing in the industry I started paying attention to what the client needs. This mind-twist is really crucial – when you focus on the clients' needs instead of your tasks – that is when the change really happens. For me, this was back in 2012 when I went to do a project for the Royal Bank of Scotland in London and for the first time I was in the position of a software consultant. As a software consultant people would come up to me and they were not interested in how something would be developed. Instead, they were asking what is the return of the investment of this software, how many hours would it take, what is the improvement of the processes they can count on and why should they invest in this exact software. That is the real moment when you start thinking like a manager.
I suppose that the COVID-19 situation has changed the way you work, but can you briefly describe one normal working day at Dreamix? What is the main atmosphere in the office/home office?
When defining our company culture, Dreamix focused on solving a problem we had identified years ago – the fact that engineers have no say in the working style. I have worked with many companies where you have business managers coming in and saying that employees need to work X amount of hours, shouldn't check their Social Media or learn new things while at work. All of these people are managers that are used to working in industries like Finance, Media, etc. and it probably works for them. Dreamix, however, started this "developers-led company" and "culture first" company. The first thing that we decided was that people would be encouraged to invest in their education and to actually help others grow. For example, we are currently having 6 employees teaching in different universities and academies.
Dreamix employees learn a lot by teaching and become even greater professionals, so naturally, we do our best to support this kind of time-investment. The other thing that we really value is autonomy so we encourage people to make decisions on their own. For example, managers will rarely discuss when a person should take their vacation days. As we always strive to hire responsible and bright engineers, making the right decision comes naturally. In the middle of a very tough delivery, of course, my decision will be that I will have to stay and do my job and if there is nothing pressing, of course, I will go and take a holiday. Dreamix established a culture where on a daily basis we count on our employees as all of these people that are first of all very responsible, second of all care for each other and third of all they never stop improving themselves and excelling as experts.
Do you plan to expand the team of the company in Bulgaria or maybe in the UK?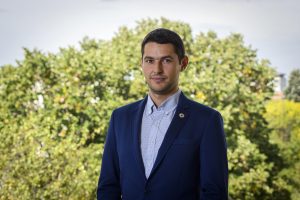 Our first main goal is to continue our organic growth. We are receiving a lot of project requests, mainly with new technologies and with many challenging and interesting environments and it's really exciting to be able to invest your efforts in such products. Only through natural growth, we hired 30 new team members during the pandemic in 2020. Also, our retention rate has been 95% so very few people are leaving which is my top priority and also my colleagues' priority. I think it is because we hire first of all "A" players and people that are top pros in the field and second of all, it is because of the environment here. And regarding the growth in the UK – yes, of course. We are targeting the UK and we also want to grow here, keeping this same culture.
How do you see Dreamix in the next 3 to 5 years?
I see Dreamix as a leader in the AI and Machine Learning solutions in the Tech industry, Finance, and Healthcare. We target these industries specifically as we would like to maximize our positive impact on society. Therefore, for example, Dreamix is not working for industries like gambling even though we have received requests for implementing machine learning solutions. However, we see this as something that will not add as much value to people, for example, a solution we are implementing right now – digital healthcare solutions that are helping people to stay healthy and if they have a problem they could solve it faster. We see ourselves as a company that is continuously building products mainly in partnership with bigger organisations that already have clients and already have a lot of strength in marketing and sales.
Do you have any rituals or team-habits that you are doing to keep a positive working climate and stay proactive all the time?
Actually, we have plenty of these. So my favourite is called the "Book Club". In it, our colleagues are reading books chapter by chapter and then they exchange knowledge on the given topic. We also have other clubs like "PM Club" which is about sharing best practices, processes and management. And the other one which is called "Frydix" which is Friday sessions and presentations in front of the entire team held by impressive people, sharing their viewpoints on the newest technologies and trends, management, personal development and even extreme sports experience or travelling.